Want To Learn How to 'Surf'? Attend "Internet 101" June 20th
June 13, 2002
June 13, 2002, Greencastle, Ind. - Are you digitally reluctant? Does the thought of using a word processing program make you nervous? Is the Internet off limits? You're invited to "Internet 101," to be held Thursday, June 20, from 7 to 9 p.m. in the computer laboratory of the F.W. Olin Biological Sciences Building, 1 East Hanna Street. The class, which will provide education on the basics of Web browsing, e-mail and word processing, is free and open to the public.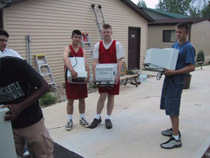 "Internet 101" is sponsored by the Community Technology Enhancement Program (CTEP), which collects computer hardware from DePauw and the Putnam County community, refurbishes the equipment, and distributes it to people in need. The program is coordinated by Bob Hershberger, assistant professor of Spanish at DePauw, who says, "If people are technophobic, that is, intimidated by technology, or if they simply want to brush up on basic skills, this class will provide a unique opportunity to get more in touch with tools that can enhance learning and simplify our lives. CTEP's goal is to bring the community in touch with the world through technology. 'Internet 101' should help do just that," Dr. Hershberger said.
CTEP has now delivered 35 refurbished computers to individuals and organizations throughout Putnam County. On June 6, the DePauw-led initiative delivered 10 computers and a laser printer to ResCare, a facility that provides social services, housing, meals and schooling to high-risk youngsters ages 7 to 17 (the second and third photos in this story show the PCs being delivered to ResCare). DePauw has also opened its computer laboratories to local youngsters for training as part of CTEP's Summer Enrichment Program (see photos at very top and below). "You really can't beat the look that appears on a person's face as they're being given their first computer,
or being helped to understand and feel comfortable with the technology," Hershberger added. "CTEP is empowering people in the best sense of the world, and giving them new hope through devices that, although older, are still viable computers."
For more information on CTEP or to donate hardware, send an e-mail here or call Bob Hershberger at (765) 658-4745. You can also learn more about the program by reading this previous story.
Back