Athletics Director Page Cotton Quoted in Star Story on Title IX
June 23, 2002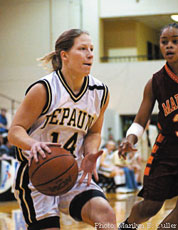 June 23, 2002, Greencastle, Ind. - The main story on the front page of today's Indianapolis Star, which includes comments from DePauw University's director of athletics, marks the 30-year anniversary of "Title IX, the landmark legislation forbidding sex discrimination at schools receiving federal funds. That statute -- enacted June 23, 1972 -- applies to all programs, including vocational training, medical schools and doctoral programs. But its greatest impact has been on women's sports," writes the Star's David Woods in an article entitled, "Law helps women even playing field; But gender and program inequities remain."
Woods explains, "Under Title IX, universities are required to meet one of three criteria -- that the ratio of male to female athletes should approximate the ratio of male to female students in the school's general population, the number of female athletes is proportional to the number of female students, they have a history of expanding sports or they're effectively accommodating the under-represented gender." Later, he writes, "Title IX's second test -- a history of sports expansion -- has been a strategy used by DePauw, a Division III university in Greencastle. Women account for 56 percent of its enrollment and 39 percent of its athletes. But DePauw has added eight women's sports since 1972. Athletic Director Page Cotton said DePauw's mission has been not just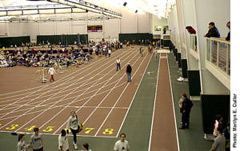 numerical but to provide the same quality of experience. This year DePauw had a women's basketball team in the Final Four and finished fourth nationally in women's golf."
Cotton tells the newspaper, "In Division I, they have so many different pressures and so many different agendas. We don't have to succumb to those things as long as we have the right philosophy and commitment."
You can read the article in its entirety at the Star's Web site by clicking here.
Back