Prof. Jeff McCall '76 Reflects on State of Radio in Op-Ed Column
June 24, 2002

June 24, 2002, Greencastle, Ind. - "Radio ... is now careening down a slope that threatens decades of serving the public interest and could forever change its status as the people's medium," writes Jeffrey M. McCall, professor of communication arts and sciences, in an op-ed column published in Sunday's edition of Indiana's South Bend Tribune. Dr. McCall, who graduated from DePauw in 1976, adds, "Things have changed radically since Congress passed the Telecommunications Act of 1996 and as the FCC has taken a path of minimal regulation."
The Federal Communications Commission, which has relaxed rules for radio ownership in recent years, is now re-evaluating the situation. McCall writes, "Radio listenership has dropped 9 percent since 1996. Sure, the Internet and portable CD players explain part of that. But the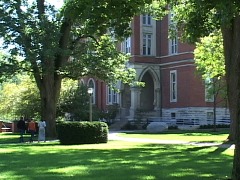 more likely reality is that radio no longer serves the local public interest like it once did, and audiences are figuring that out. It's too bad the public, which theoretically still owns the airwaves, had to figure this out well before the FCC did."
You can read the entire column, entitled "Trends in radio threaten localism, public interest," by clicking here.
Source: South Bend (Ind.) Tribune
Back