Hartford Courant Notes Lili Wright's New Book and Tour
June 25, 2002
June 25, 2002, Greencastle, Ind. - "Lili Wright, a former journalist who teaches at DePauw University, will sign copies of her book Learning to Float: The Journey of a Woman, a Dog and Just Enough Men (Broadway Books, $22.95) Monday [June 24] from noon to 1 p.m. at Bookworm, 968 Farmington Ave., West Hartford," the Hartford Courant's Book Editor Carole Goldberg wrote in Sunday's edition of the Connecticut newspaper.
The article continued, "Wright, a former West Hartford resident who has written for the New York Times and the Baltimore Sun, based the book on her experiences as a thirtysomething writer in a complicated relationship with two men. She borrows a dog and takes off on a road trip from Maine to Key West, searching for reasons why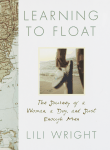 her relationships, like her journey, keep going south. She meets such characters as a vegan astrologer and a woman who marries herself. With humor, the book explores love's misfires and inevitable trade- offs."
You can access the story online by clicking here.
Learn more about the author, her book tour, and download video and audio clips of Professor Wright talking about her work and her students, by clicking here.
Source: Hartford Courant
Back