Classes Are In Session at DePauw Elderhostel 2002
June 25, 2002
June 25, 2002, Greencastle, Ind. - In the 21st century, learning is a life-long endeavor. There's proof of that this week on the DePauw University campus, which is hosting Elderhostel, the nation's first and the world's largest educational and travel organization for adults 55 and over. Nearly 30 people from across the nation have come to Greencastle to learn, sightsee and socialize, and several of the participants are no strangers to East College and other campus landmarks.
[DOWNLOAD AUDIO: "DePauw Connection" 376KB] "We always have a DePauw connection. There's always a diverse group of Elderhostelers, as they're known," says Terry Noble, who is coordinating the event.
"This year, we have 29 persons, one of whom is actually a retired faculty member [professor emeritus of philosophy and assistant chaplain Russell J. Compton] here. And we have 2 or 3 families that have had either children or grandchildren that have attended DePauw, and one woman [Marilyn Burnett Antenen, seen at right] who is an alumna of the class of 1947."
Noble, the associate coordinator of user services and support for DePauw Information Services, took over the operation of the program, now in its 14th year, from the late Fred Silander, a longtime DePauw administrator. This year's theme is "A Taste of the Liberal Arts Curriculum." Visitors attend classes, including University Rabbi and Director of Jewish Life Lewis E. "Buz" Bogage's modern perspective on the Old Testament, and associate professor of physics and astronomy Mary Kertzman's teachings about the planet Mars.

[DOWNLOAD AUDIO: "Favorite Lectures" 300KB] "I have seven faculty members and they are all essentially offering their very favorite lecture," Noble reports. "They have two ninety-minute sessions each."
Of the participants, Rabbi Bogage says, "They are very high quality people, intellectually curious people and have come to DePauw to expand that intellectual curiosity. I think it's a privilege and I'm very happy to be a part of this."
Dave Hinebaugh, who hails from Akron, Ohio, is at his 13th Elderhostel, but his first at DePauw. His previous experiences have been in places as diverse as New Orleans, Savannah, Georgia and South Bend, Indiana.
[DOWNLOAD VIDEO: "DePauw's Expertise" 1021KB] "I wanted to find an Elderhostel close by Notre Dame, so I looked around the various areas and decided DePauw University's Elderhostel sounded like a good deal. As the other people said, it was not specified what the subjects would be, but I liked the word 'expertise.' And I assumed that if they were good enough for DePauw University students, they would be sure good enough for me."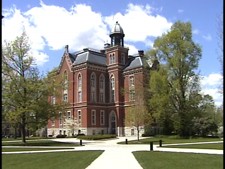 Apart from classroom learning, the participants will take a trip to Bloomington and a sightseeing junket to Indianapolis before they leave at the end of the week. Bogage says attracting people committed to continuing their education is something DePauw does for several groups of people.
[DOWNLOAD VIDEO: "Wide Reach" 858KB] "They have always wanted to see DePauw -- which I think is important for people to understand -- we do have a reputation that reaches out all over the country. Number two, two-thirds of the group or at least half of the group are retired educators who make a commitment to continuing educations during their vacations, and visit a college campus."
If you're interested in learning more about the Elderhostel programs run around the country, click here.
Back