DePauw Composer's Liberty for All To Be Heard Across America
June 26, 2002
June 26, 2002, Greencastle, Ind. - If you're at an Independence Day event and hear patriotic music, there's a fair chance that it's the latest composition by a DePauw University School of Music professor. Liberty for All by James A. Beckel Jr., adjunct professor of trombone at DePauw and principal trombone of the Indianapolis Symphony Orchestra, was performed by the legendary Boston Pops Orchestra on Memorial Day (the program cover can be seen below), and is scheduled to be played by 25 other American orchestras this summer.
Liberty for All was originally commissioned by Continental Harmony, a national organization which selected one composer from each state to write a work in celebration of the millennium. Beckel's composition features texts from speeches of past presidents. Among those performing Liberty for All in the coming weeks will be the Indianapolis Symphony Orchestra at its July 4th concerts at historic Conner Prairie in Noblesville, Indiana, performances that are attended by tens of thousands of people.
Professor Beckel has had numerous works performed in the past by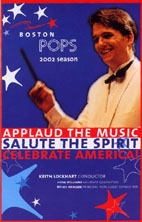 other major orchestras of the United States, including those in Detroit, Atlanta, Dallas, St. Louis and Rochester, New York. His The American Dream has been performed by many of the major orchestras and bands in the United States, and was featured on the DePauw Band's 1998 CD Shadows of Eternity. The DePauw Symphony Orchestra peformed the piece at the 2000 gala at the RCA Dome in Indianapolis celebrating the completion of the $374 million "Campaign for DePauw: Leadership for a New Century."
Jim Beckel's horn concerto entitled Glass Bead Game was nominated for a Pulitzer Prize and can be heard on the DePauw University Band's compact disc, Airs & Dances.
Back