'98 Grad Christina Gettelfinger's Service to New Americans Noted in Louisville Courier-Journal
June 28, 2002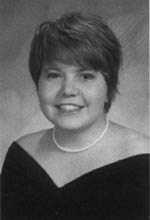 June 28, 2002, Greencastle, Ind. - "In late 1998, Christina Gettelfinger witnessed firsthand the devastation that Hurricane Mitch caused when it slammed into Honduras," begins an article on the 1998 DePauw University graduate which was published by the Louisville Courier-Journal. "Gettelfinger [seen in her senior photo at left], a Corydon resident who is now 25, was teaching at a private Christian school in the Honduran capital, Tegucigalpa, when the disaster struck. The storm killed more than 5,650 people and left 600,000 homeless. Gettelfinger was unharmed, but she still remembers the kindness that was extended to her, a young woman far from home."
The story by Grace Schneider continues, "Roads were washed away and public transportation was shut down. Drivers in cars and construction trucks often offered her a lift as she hiked long distances to reach her teaching job. Moved by that spirit of cooperation, Gettelfinger returned to Harrison County two years ago and has been extending a helping hand to the growing Hispanic population there."
Christina Gettelfinger and her parents have created Madera Ministries to provide services to the estimated 400 Hispanic residents of her county. She teaches newly-arrived families English, and tutors local English-speaking residents on how to communicate with their new Spanish-speaking neighbors. The Gettelfingers have also created a community center for Corydon's new Hispanic residents, and writes a column that appears in Spanish and English in the Corydon Democrat, the local newspaper. The story later notes, "Gettelfinger, the youngest of three children, said she always had an interest in public health and community service. She attended DePauw University, where Winter Term service stints took her twice to the Philippines. Besides getting a degree in biology, she also mastered Spanish."
Christina Gettelfinger tells the newspaper, ''God has given
us a love for the Hispanic population. The people are so wonderful -- kind, grateful, gracious. They are our friends.''
You can read the entire article at the Courier-Journal's Web site by clicking here.
Back