Commencement DVD Ships -- Copies Still Available
July 2, 2002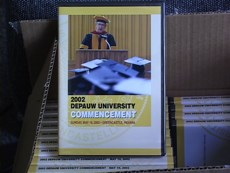 July 2, 2002, Greencastle, Ind. - "I think that our graduates and their loved ones will be very pleased," DePauw University director of media relations Ken Owen says of the DVD of Commencement 2002, which is being shipped today. The disc, which was produced and mastered by DePauw, was professionally replicated by Sony Digital Disc Manufacturing. It preserves an event that participants will always remember and cherish in today's highest-quality home video format, one that offers features tape cannot.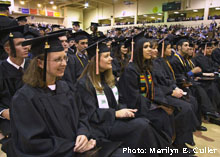 The DVD's menu allows users to go directly to a specific segment of the program. If you want to access the speech by US Secretary of Labor Elaine Chao or hear A Toast to DePauw, for instance, all you have to do is click on the appropriate chapter. Perhaps most importantly, the technology allows you to access a particular letter of the alphabet as diplomas are being distributed. If you want to find someone whose last name is Johnson, simply click on the menu's "J" button and you can go immediately to the first student whose last name begins with that letter and eliminate the guesswork involved in fast-forwarding a tape. Further, while tape deteriorates over time, the DVD and its pristine picture and digital sound should provide years of enjoyment.
Those who have ordered DVDs should be seeing them in their mailboxes soon as DePauw is shipping the discs today. You can still obtain copies of the limited-edition DVD online for $25 for the first disc, and $10 for each additional copy sent to the same address, by clicking here.
Also available is DePauw's first-ever DVD, which captures the excitement of the 2001 Monon Bell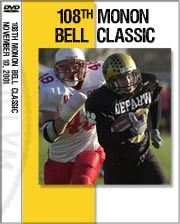 game. The Indianapolis Star's Steve Slosarek reviewed the disc, crediting DePauw with creating "a dual-sided disc (one for each half), complete with a menu that enables viewers to jump to a particular play. The game is small-college football at its best." The platter includes every play of the game, and offers several different angles on the thrilling final play of the contest.
The Monon Bell DVD is $15, and can be ordered online by clicking here.
Back