New Book Names DePauw as One of the Most Interesting Colleges
July 3, 2002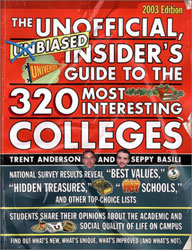 July 3, 2002, Greencastle, Ind. - DePauw University is included in the inaugural (2003) edition of The Unofficial, Unbiased Insider's Guide to the 320 Most Interesting Colleges, now in bookstores across the nation, and is named as a top "hidden treasure" by writers Trent Anderson and Seppy Basili. In the book, co-author Anderson writes, "DePauw's extensive internship opportunities and attention to marketable knowledge and skills bode well for anyone looking to beat the competition before their careers even begin."
Published by Simon & Schuster and sponsored by the test-preparation company Kaplan, Inc., the book's findings are based on a pure random sample of high school guidance counselors across America. Schools are not ranked. Instead, each of the 320 colleges and universities selected has a detailed, two-page profile.
DePauw's entry includes mentions of the $20 million Lilly Endowment grant that created 361°, an initiative that equips students with technology skills to complement the classic critical thinking the University has taught for generations (read more here), and DePauw's ranking in the top 10% of small colleges in the Yahoo! Internet Life Most Wired Survey (to read more, click here). The book also details how 75% of DePauw students participate in community service programs, and the Monon Bell football game, which it notes has "continued for over 100 years and is one of the nation's oldest and fiercest football rivalries."
The book's writers also talked with students, who were allowed to speak anonomously. One identified as a "Grateful senior" is quoted, "DePauw places high expectations on its students. Academically, I got what I paid for." DePauw is also ranked as a top-tier national liberal arts college and a "best value" by U.S. News & World Report (read more here), and the Princeton Review's 2002 edition of The Best 331 Colleges deems DePauw's professors, social environment, radio station and spiritual environment as among the best in the nation (click here to learn more).
You can access additional information about The Unofficial, Unbiased Insider's Guide to the 320 Most Interesting Colleges, and buy the book, at Amazon.com, Buy.com and Barnes & Noble.com.
Back