Catherine Neville '95 Another of St. Louis Business Journal's '30 Under 30'
July 29, 2002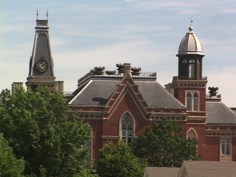 July 29, 2002, Greencastle, Ind. - Catherine A. Neville, co-owner of Bent Mind Creative Group, a publishing and graphic design company, and a 1995 graduate of DePauw University, has been named one of the St. Louis Business Journal's "30 Under 30 Class of 2002." She joins another young DePauw alumna, Danica L. Mathes '98, on the list.
SBJ's profile of the 28-year old entrepreneur carries the headline "Catherine Neville survived dot-com bust," and begins, "When Catherine Neville started the online magazine SauceCafe.com, her goal was twofold: introduce readers to the culinary life of St. Louis and avoid becoming a dot-com casualty. Four years later, Neville has surpassed her initial goals." It notes, "In addition to maintaining the SauceCafe Web site, Neville and her partner, Allyson Mace, publish 22,000-plus print copies of the magazine each month as well as develop Web sites for outside businesses."
Neville says that Sauce Cafe, which distributes about 22,000 issues each month in about 300 St. Louis-area restaurants, bars and grocery stores, is an independent voice, and its content is not swayed by advertisers. "We are moving toward being the definitive source for restaurant information in St. Louis, and you don't get there

by basing your content on advertisers," she tells the Journal.
You can read the entire profile online by clicking here. Visit SauceCafe.com by clicking here.
You can read more about Danica Mathes here.
Back