Internationally-Recognized Futurist to Keynote Technology Symposium at DePauw, Oct. 4-5
August 5, 2002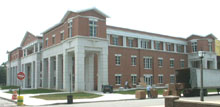 August 5, 2002, Greencastle, Ind. - The "tech bubble" has burst. Leading edge companies that saw huge stock run-ups a few years ago are today suffering from steep declines in their share prices and are laying off workers or disappearing altogether. What does the future hold, and how will recent events affect future job opportunities and technological developments? 361°, DePauw University's technology initiatives, will examine these questions and others October 4-5 in a two day symposium, "Beyond e: After the Shakeout, the Real Revolution." Highlighting the event will be a speech by Ray Kurzweil, artificial intelligence expert and author of The Age of Intelligent Machines. Called a "restless genius" by the Wall Street Journal, Kurzweil will provide the symposium's keynote address Saturday, October 5 at 10 a.m. in Kresge Auditorium of the Performing Arts Center. Attendees can also explore the new 361° Center in the renovated Percy L. Julian Science and Mathematics Center (seen above).
Created with a $20 million grant from Lilly Endowment in March of 2001, the 361° initiatives are designed to prepare DePauw alumni, students, faculty members, and staff to provide the creativity and leadership required by the digital age.
361° is designed to make the DePauw experience "more than full circle," equipping students with high-tech skills along with the classic critical thinking the University has taught for generations. Dr. Dennis Trinkle, associate coordinator of technology and information systems and Tenzer University professor in Instructional Technology, oversees 361°, and says the symposium will provide opportunities for education, outreach and networking.
[DOWNLOAD AUDIO: "Highlighting the Students" 564KB] "We hope to highlight the students -- we have a terrific number of students at DePauw, some in the ITAP program, some simply studying computer science or other technology-related disciplines -- and we want to bring them to the attention of statewide business leaders and national business leaders so that they're aware of all of the new opportunities for hiring DePauw students and for getting DePauw students who would be great fits for IT-related internships, maybe during Winter Term, maybe during the summer, maybe during the regular academic year, but bring to business leaders' attention DePauw students and the roles they can play."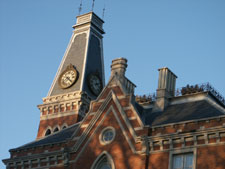 Symposium attendees will include some of the region's most powerful technology leaders. Jack Gill, one of America's top venture capitalists and entrepreneurs, will take part in a panel discussion as will Jim Wheeler, president of the Indiana Technology Partnership, and David Becker, CEO and president of Remember Data Services and founder of First Internet Bank. Becker is also a 1975 graduate of DePauw and serves on the Board of Directors of the University's McDermond Center for Management and Entrepreneurship.
The keynote speaker, Ray Kurzweil, was the principal developer of the first omni-font optical character recognition, the first print-to-speech reading machine for the blind, the first CCD flat-bed scanner, the first text-to-speech synthesizer, the first music synthesizer capable of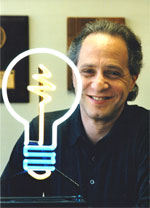 recreating the grand piano and other orchestral instruments, and the first commercially marketed large vocabulary speech recognition. Kurzweil has received numerous awards, including the $500,000 Lemelson-MIT Prize, the world's largest award in invention and innovation, and the 1999 National Medal of Technology, the nation's highest honor in technology. His best-selling book, The Age of Spiritual Machines: When Computers Exceed Human Intelligence, has been published in nine languages. His The Age of Intelligent Machines was named Best Computer Science Book of 1990.
[DOWNLOAD AUDIO: "Rock Show" 448KB] "He's been a pioneer in technology for a long time, he's also a futurist and looks at where technology is going," Dr. Trinkle says of Kurzweil. "What he's going to do for the presentation is give us a glimpse of the future ... he's going to bring almost a stage show [or] rock concert and he'll interact with some artificial beings, some artificial intelligence agents, he will demonstrate some of the latest voice recognition software ... [and] give us a view into the future,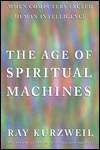 what technology might be leading society toward."
Among other things, Kurzweil forecasts that by 2020, computers will exceed the memory capacity and computing speed of the human brain, allowing paraplegics to walk by using a combination of nerve stimulation and robotic devices. He foresees that people will be able to choose the personality of their automated computer assistant, who will conduct business on their behalf. By 2030, you will be able to enhance your intelligence with neural implants. As Kurzweil said during his keynote speech to the PC Expo in June, 2000, "Well see 1,000 times more technological progress in the 21st century than we saw in the 20th. It's remarkable how people fail to internalize the implications of this." You can read more in a Business Week article by clicking here.
The symposium, and the high-powered guests it brings to Greencastle, will increase national awareness of the innovative 361° initiatives that marry technology and the liberal arts, providing knowledge and skills that today's students can use to better tomorrow's world.
[DOWNLOAD VIDEO: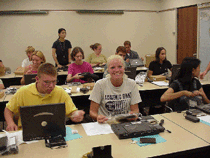 "Preparing Students" 655KB] "It makes the University even more attractive and beneficial to students [who] can be assured that if they're coming to DePauw, they're going to be as well-prepared for the 21st century as they could possibly be. No liberal arts college is going to be able to provide a better preparation than DePauw is going to be providing."
For more information on "Beyond e: After the Shakeout, the Real Revolution," send an e-mail here, or click here to access the symposium's Web site.
Back