Alfred Biggs Jr. '54 Named Interim Chief Medical Officer of The Cancer Institute
August 14, 2002
August 14, 2002, Greencastle, Ind. - Alfred D. Biggs Jr., a 1954 graduate of DePauw University, has been named interim chief medical officer of The Cancer Institute, a partnership in the Kansas City metropolitan area between Health Midwest and St. Luke's-Shawnee Mission Health System. It offers an array of services such as inpatient oncology, radiation therapy and blood and marrow transplants at Research Medical Center, Menorah Medical Center, Baptist Medical Center and Saint Luke's Hospital in Midtown.
Launched earlier this year, The Cancer Institute has a goal of achieving National Cancer Institute comprehensive cancer center status.
An article in the Kansas City Star notes, "Biggs is a graduate of DePauw University and Northwestern University Medical School and is board certified in internal medicine. He worked in the medical field for more than 40 years before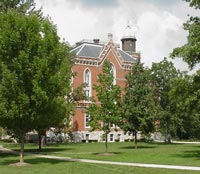 retiring from active practice in 1986. He subsequently served as president and chief executive officer of Health Midwest Comprehensive Care for five years."
Biggs tells the newspaper, "I believe in the mission of the Cancer Institute to provide compassionate, comprehensive, high-quality cancer care." The Cancer Institute's chief executive officer, Doug Lawson, says Biggs "will be instrumental in ensuring that TCI is responsive to the needs of the medical staff as well as guiding the development of TCI's medical clinics and multidisciplinary teams."
The Institute can be reached at (816) 751-4824.
Back