US Takes Stand Against Egypt's Conviction of Former DePauw Professor
August 16, 2002
August 16, 2002, Greencastle, Ind. - "I've never given up hope," 1971 DePauw University graduate Barbara (Lethem) Ibrahim, the wife of jailed human rights activist and former DePauw professor Saad Eddin Ibrahim, told NPR in a telephone interview from Cairo, Egypt. Ibrahim learned yesterday morning via e-mail that President George W. Bush has notified Egyptian President Hosni Mubarak that the U.S. will oppose any additional aid to Egypt to protest the recent conviction of Dr. Ibrahim. In the National Public Radio interview, Barbara Ibrahim says she's pleased with the pressure the U.S. Congress and ordinary Americans put on the Bush administration to take the stand. "I know that there are people of goodwill inside the Egyptian government as appalled as all of us are at what has happened. I hope that this will strengthen their hand and that the internal debates that are going on will lead to the proper outcome," she tells the radio network.
Ibrahim, who taught at DePauw from 1967 to 1974, was sentenced to 7 years in prison after being convicted last month of embezzlement, receiving foreign funds without authorization and tarnishing Egypt's image. Human rights groups condemned the outcome, calling the charges and the resulting trial a "sham." The U.S. State Department initially said it was "deeply disappointed," a reaction NPR's Mary Louise Kelly describes as "muted." Thursday, the State Department's Philip Reeker said,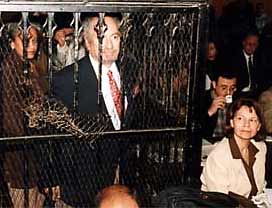 "This is a very important issue to us and we are raising it with Egypt at the highest level." The U.S. government is calling for the release of Ibrahim.
"Barbara Ibrahim's phone is ringing constantly, but these days it's not with the death threats against her husband or the family that used to come as often as 10 times a night," writes Michael Slackman in today's Los Angeles Times. "These are calls of support." Later, the story states, "Barbara Ibrahim, who was born and raised in the Midwest and met her future husband at DePauw University in Indiana, was in the courtroom July 29 at what was expected to be a routine hearing in the retrial of her husband and other defendants. Instead, the judge walked in and simply read the verdicts. The last defense attorney had only just spoken, and Ibrahim had not been given a chance to submit his written statement, which the judge had said would be allowed. He was dragged off to prison, and Barbara Ibrahim told reporters: 'The rule of law died today in Egypt.' But with Washington's decision, and the growing interest in her husband's cause, she's feeling a bit better now."
Meanwhile, Egyptian rights activists argued today that the U.S. response to the Ibrahim case
"will make it harder for the country's already battered civil groups to campaign for greater freedoms and will fuel more anti-U.S. sentiments," according to an APreport which quotes Negad Borai, a lawyer and a human rights activist. "Do they really want to promote human rights in Egypt? There are other ways to do it."
You can access audio of the complete NPR report by clicking here. The Los Angeles Times article is available at the newspaper's Web site (a free registration is required) here. Today's Associated Press story can be accessed by clicking here. Finally, an AP story filed yesterday on the U.S. decision to put pressure on Egypt to free Dr. Ibrahim can be found here. You can read more coverage of this story at DePauw.edu by clicking here.
Back