President Bottoms Stresses Character as He Welcomes 700 New DePauw Students
August 17, 2002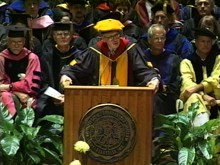 August 17, 2002, Greencastle, Ind. -
[DOWNLOAD AUDIO: "A Very Good Time" 413KB] "You have come to DePauw University at a very good time," President Robert G. Bottoms said as he welcomed the 700 members of the incoming class at the Opening Convocation at Kresge Auditorium. "You will be among the first students ever to use our new art building, to study in the renovated Julian Science and Math Center, to walk across the very newly-planted grass in Holton Quad," Dr. Bottoms noted. He added that vice president of admission and financial aid "Madeleine Eagon tells that you are the best class that we have ever welcomed. The faculty tells me, 'we'll see'," the president said to laughter from the audience.
Students and their parents spent the morning and early afternoon moving in to their dormitories. The 700 incoming students represent one of the University's largest in recent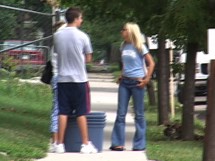 years, the result of a record admission year that saw the largest number of applications to DePauw in history and the lowest percentage of admitted applicants. Demand for the University was so high among accepted students that more than 700 had committed to attending DePauw before the May 1 deadline date; the University had a goal of attracting a class of 630.
The new students come from 35 states and 8 countries, and, as the President stated, bring with them the strongest academic credentials since the University began keeping such records. The median (unweighted) high school grade point average of the entering class is 3.74 (up .10 from last fall), the median class rank is 91% (up 1%), and 73 were valedictorians or salutatorians in high school (up from 41; for more information on the Class of 2006, click here).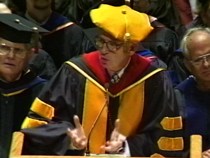 "You've been given a wonderful opportunity," Dr. Bottoms told DePauw's 166th class, "and with that comes responsibility." He called upon the new students to open their minds and their hearts as they begin a new chapter in their lives, one where they work to better understand the world, their neighbors, and themselves. Calling it "a time of rapid change," the President who has guided DePauw since 1986 noted,
[DOWNLOAD AUDIO: "Rapid Change" 535KB] "We have read in our newspapers about mass corruption in the highest echelons of some of the most well-reputed businesses in our land. And you're the first college students we've welcomed since I've been president where I would have to say to you-- while you're here on this campus, our government may decide on whether to go to war with Iraq."
The DePauw experience that 700 young people begin today can help them better understand their changing world and the ways in which they can improve it, Dr. Bottoms told the students as he quoted Dr. Martin Luther King Jr.,
[DOWNLOAD AUDIO: "Character Agenda" 419KB] "who said the most dangerous criminal may be the man gifted with reason, but no morals. We have to remember that intelligence is not enough, said he. Intelligence plus character: that's the goal of true education.'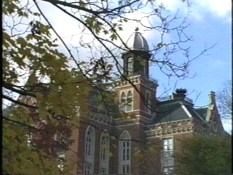 The president added, "I hope character development is on your agenda for your time at DePauw."
In closing, President Bottoms said,
[DOWNLOAD VIDEO: "Our Hope" 1200KB]
[DOWNLOAD AUDIO: "Our Hope" 536KB] "Our hope for you is that in ten years or twenty years of 50 years, you will join literally thousands of other DePauw alumni who remember their four years on this campus as a time when they discovered a direction for their life, and a sense of their responsibility for other people. I wish you well."
Back