New Art Center's First Exhibition Celebrates Life and Work of Dick Higgins
August 19, 2002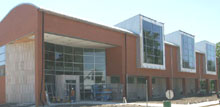 August 19, 2002, Greencastle, Ind. - "Betwixt and Between: The Life and Work of Fluxus Artist Dick Higgins," a retrospective exhibition of the multi-media work of Dick Higgins, will open the new DePauw University Art Center August 26 through October 13. On Monday, August 26 from 4 to 5:30 p.m., you're invited to attend an opening reception at the center, located at 10 West Hanna Street in Greencastle.
Dick Higgins, who died in 1998 at age 60, was a renowned founding member of the avant-garde artist collective known as Fluxus. A composer, painter, translator and art theorist, Higgins said, "I find I never feel quite complete unless I'm doing all the arts -- visual, musical and literary.
I guess that's why I developed the term 'intermedia,' to cover my works that fall conceptually between these." The founder of Something Else Press, Higgins authored 47 books.
The exhibition at DePauw will include paintings, original and published musical notations, silk screens, large graphics, scrapbooks, a film, and audiotapes, as well as many pieces that have never before been publicly displayed. "Betwixt and Between" is co-curated by Fluxus historians Simon Anderson and Hannah Higgins (the daughter of the artist), and organized by the Columbia College Chicago Center for Book and Paper Arts.
On Thursday, September 5 at 4 p.m., the public is invited to attend a collaborative Flux performance that will involve students and audience members.

At 5 p.m. that evening, Hannah Higgins, noted art historian, critic, and musician, will lead an experiential, interactive tour of the exhibition.
Gallery hours are Monday-Friday, 9 a.m.-4 p.m.; Saturday 10 a.m.-4 p.m.; Sunday 1-5 p.m. For more information call (765) 658-4336 or click here for comprehensive listings of upcoming shows and events at the Art Center.
Back