Jill Zajicek Wickersham '85 Has First Novel Published
August 19, 2002
August 19, 2002, Greencastle, Ind. - Jill Zajicek Wickersham, a 1985 graduate of DePauw University, is celebrating the publication of her first book, a romance/suspense novel entitled The Riviera Conspiracy. Wickersham, who uses the nom de plume Jill St. Anne, calls her book "a fun, fast read," adding, "because of the romance element I think it appeals more to women than to men. The main character is 30, single, has a high-powered stressful job and lives in a hip part of San Francisco. I think many women in their early-to-late twenties would love to be Christina, and women in their thirties and above may have even lived -- to some small degree -- Christina's lifestyle."
Of her first novel, Wickersham says, "Writing the book was so easy compared to getting published. Because my genre is romance/suspense many of the agents that were interested in representing me wanted me to rewrite the story as a trashy romance. Of course they didn't use those exact words, but they gave me a list of books to read. I couldn't even get past the first chapter.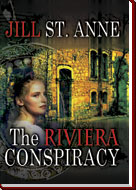 Anyway, I finally found a publisher that would accept my manuscript without an agent." That publisher, 1st Books, is offering The Riviera Conspiracy to readers in electronic form now, and will soon release the book in both hardbound and paperback editions (you can learn more, and download a free sample of the book, by clicking here and typing "St. Anne" in the box marked "Author").
"I feel DePauw was a great springboard for my life in many respects," Wickersham says. "The small class size encouraged people to participate in class discussions. And as we all know, there isn't room in today's competitive business and social environment for shrinking violets! Also, there was no possible way one could have attended class unprepared, let alone skip class, which happens all the times at the larger universities. I feel that this mirrored a work ethic instilled by my family which encourages putting your best foot forward and not taking the easy way out. In terms of my writing career, it seemed that Depauw had many more essay tests than the larger universities. I remember hearing from my friends at other, larger schools that many of the tests were multiple choice. Please! This type of testing will not hone your writing skills," she adds.
The 1985 alumna points to the semester she studied abroad as an experience that shaped her life, and affects her work. "I was able to tailor my own program to go to a university in Switzerland where not many other Americans attended the same school. By doing this, I forced myself to speak French all the time and completely immersed myself into the culture. As many of the students were graduate students, the curriculum was challenging. I believe that this
helped my career as a writer, because I have had more experiences from which to draw upon. All of my books will include travel to an interesting location as well as life in a different part of the world," Wickersham says.
Jill Zajicek Wickersham came to DePauw as a liberal arts major with a minor in French. After winning a UPI award for Best Investigative Reporting for a story she prepared for WGRE, Wickersham veered toward journalism. But her personal journey took another turn. "After DePauw I got my M.B.A. in International Business, so I thought upon graduation I would be working for a huge international corporation based in Paris or Geneva. But my curriculum steered me elsewhere. My final year, as part of my thesis, I was involved in an international advertising competition. Ad execs from London, New York, L.A. and Chicago flew out to judge the competition. My group of four students won the competition, so it opened many doors for me within the advertising community." She took a job with a top advertising agency in Los Angeles, but found it less than fulfilling. Eventually, health issues forced Wickersham to move to San Francisco, where she worked in investment banking for Chase Manhattan Bank, met her husband, and had a daughter.
From her experience, Wickersham advises DePauw students "to not get discouraged if things don't work out perfectly the first second out the gate. You should not
look at every minor 'failure' or detour as the worst thing that could happen, but instead as a learning experience that could lead to bigger and better things. Every roadblock provides a chance to switch gears and achieve something more rewarding and fulfilling. If they keep persevering, they'll end up in a place that may not be what they had in mind when they first started their journey, but something even greater."
Jill Wickersham, her husband and their daughter split their time between the San Francisco Bay Area, British Columbia, Canada and London, England. You can view the cover of The Riviera Conspiracy by clicking here.
Back