Dedications, Awards and Tailgate Party Will Mark Old Gold Weekend, October 10-12
August 29, 2002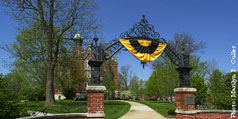 August 29, 2002, Greencastle, Ind. - As summer winds to a close, DePauw alumni are urged to mark October 10-12 on their calendars for a return to campus for Old Gold Weekend 2002. Friends, fall weather and football are but three of the things you'll be able to enjoy, as this year's schedule includes the dedications of two new additions to the Greencastle campus and a pre-kickoff tailgate party.
All alumni are invited to a new event, the Old Gold Tiger Tailgate Party, which will kick off at 11:30 a.m. on Saturday, Oct. 12, at the Greencastle VFW parking lot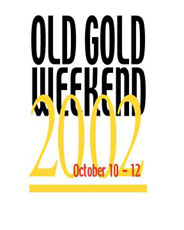 (the VFW is located on South Jackson St., but parking and access to the party will be from University parking lots on South Indiana Street; you must be 21 or older to attend and no current students will be admitted). The tailgate party will include a barbecue lunch, adult refreshments and musical entertainment. Shuttle service will be available to Blackstock Stadium and the Old Gold football game versus Sewanee, which begins at 2 p.m.
The weekend also will feature two special dedications. The new Art Center
will be dedicated at 5:30 p.m. on Friday, Oct. 11, along with the official opening of an exhibit by the building's designer, Carlos Jimenez. Then on Saturday morning at 10:45, DePauw will dedicate the renovated Holton Memorial Quad (seen at left) in honor of benefactors Philip F. and Ruth (Clark '29) Holton '29.
The Old Gold Goblet and the Young Alumni Award will be presented this year at the Friday night Alumni Achievement Banquet. The recipients are:
Old Gold Goblet: David B. Stevens, M.D. '51
Young Alumni Award: Anthony J. de Nicola '86
In addition, the following four alumni will receive Distinguished Alumni Achievement Awards at the Banquet:
Management and Entrepreneurship: Thomas P. Cooper '66, M.D.
Media: James Barbieri '50
Citizenship and Voluntary Service: Engrid Hitch Meng '66
Professional Achievement: Richard E. Hamilton '49
The Athletic Hall of Fame Banquet on Saturday evening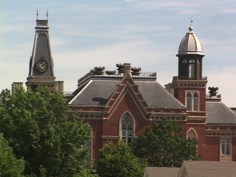 will celebrate induction of six new members:
Dale D. Anderson '62
James M. Callane '64
Patrick M. Ewing '58
Brian J. Jaworski '89
Laurence F. Skelton '60
Richard P. Tinkham '54
For a complete listing of Old Gold Weekend events, click here. More information is available by calling DePauw's Alumni Relations Office toll-free at (877) 658-2586. We look forward to seeing you!
Back