Blake Schlabach '84 Appointed Indianapolis Symphony Orchestra's Personnel Manager
August 30, 2002
August 30, 2002, Greencastle, Ind. - Blake Schlabach, trombonist with the Indianapolis Symphony Orchestra and a 1984 graduate of the DePauw University School of Music, has been appointed personnel manager for the ISO. Schlabach, who has served as assistant personnel manager for the Orchestra since 1992, will assume his new responsibilities next week.
Schlabach, who studied at DePauw under the ISO's principal trombone, adjunct professor of trombone James A. Beckel, joined the Orchestra in 1982. He has also studied with Lewis Van Haney and Martin Fako. Born in Royal Oak, Michigan, Schlabach grew up in the Cleveland, Ohio area. In his new role, the DePauw alumnus will oversee musician attendance and payroll, contract substitute musicians as needed, and schedule and manage the audition process when vacancies occur within the Orchestra.
One of the nation's finest musical ensembles, the Indianapolis Symphony Orchestra, founded in 1930, performs 200 concerts each year to an audience of more than 500,000 people. In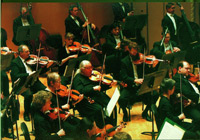 addition to the many concerts in its home, the magnificent Hilbert Circle Theatre in the heart of the city, the 87-member Orchestra has embarked on several triumphant tours of the United States and Europe and continues a long tradition of recording, currently issuing compact discs on the Decca, Koss Classics and New World labels. Since 1994, the Orchestra has been heard in more than 250 radio markets covering 37 states, the District of Columbia and Puerto Rico across the country on a syndicated series of one-hour broadcasts entitled Eli Lilly presents Indianapolis On-The-Air.
Visit the Indianapolis Symphony Orchestra's Web site by clicking here.
Back