Prof. Nafhat Nasr Receives Fulbright Award, Will Teach in Lebanon for One Year
August 30, 2002
August 30, 2002, Greencastle, Ind. -

[DOWNLOAD VIDEO: "Global Teaching" 716KB] "I have always been interested in teaching global issues and global citizenship, in this increasingly integrating world, at the global level," says Nafhat N. Nasr, professor of political science at DePauw University, who has been awarded a Fulbright Scholar grant to lecture at the University of Balamand in Lebanon, where Dr. Nasr was born. The professor, who leaves for Lebanon on Tuesday, will spend this academic year at the private university, which was founded in 1988, teaching a course in conflict analysis and management and possibly another class in either Causes of War/Conditions of Peace or Citizenship in the Global Age. Nasr also will help the university develop its political science curriculum and will continue his research into the management of conflict in Lebanese politics.

[DOWNLOAD VIDEO: "World Citizen" 413KB] "I'm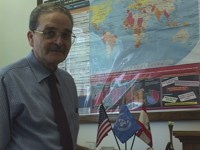 an American citizen now, but I'm also a citizen of the world," Dr. Nasr said in his Asbury Hall office, as he stood beside the flags of the United States, United Nations and Lebanon. The professor views his upcoming experience as a rare opportunity.

[DOWNLOAD AUDIO: "Primary Mission" 448KB] "I'll be re-establishing some roots, I'll be helping a fledgling University with their curriculum, hopefully ... and I'll be representing the United States and its educational cultural mission to the rest of the world," he says, adding, "I wish that this was the primary mission the United States has for the rest of the world."
The professor says he's very proud to be representing DePauw, which he says is an increasingly international institution, one that,

[DOWNLOAD AUDIO: "Global University" 707KB] "in the last 15 years, at least, been diversifying its faculty, its curriculum, its student body and even the administration ...
Underlining a global curriculum and global involvement is one of the significant developments under the leadership of the current President [Robert G. Bottoms] and especially after [Dean of the Faculty and Vice President of Academic Affairs] Neal Abraham joined the team."
Nafhat Nasr, who received the Mr. and Mrs. Fred C. Tucker Jr. Distinguished Career Award from DePauw in April (read more here), is one of approximately 800 U.S. faculty and professionals who will travel abroad to some 140 countries for the 2002-03 academic year through the Fulbright Scholar Program. Established in 1946 under legislation introduced by the late Senator J. William Fulbright of Arkansas, the program's purpose is to build mutual understanding between the people of the United States and other countries. America's flagship international educational exchange activity, the Fulbright Program is sponsored by the U.S. Department of State's Bureau of Educational and Cultural Affairs.

Since its beginnings 56 years ago, the Fulbright Program has enabled thousands of Americans to study, teach or conduct research abroad, and thousands of their counterparts have engaged in similar activities in the U.S. Recipients of Fulbright Scholar awards are selected on the basis of academic or professional achievement and because they have demonstrated extraordinary leadership potential in their fields. Fulbright Scholar alumni include Nobel Prize-winning economist Milton Friedman, Intel Corporation CEO Craig Barrett, Pulitzer Prize-winning poet Rita Dove, and Alan Lesher, CEO of the American Association for the Advancement of Science.
Back