Star Reviewer Praises DePauw Music Professor's Work
September 2, 2002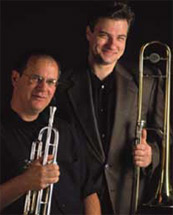 September 2, 2002, Greencastle, Ind. - Writing in today's Indianapolis Star of the two-day Hoagy Carmichael Festival, which was held in Bloomington, Indiana this weekend, Jay Harvey states, "Indianapolis' Buselli/Wallarab Jazz Orchestra capped the celebration with a new suite of Carmichael tunes arranged by co-leader Brent Wallarab," adjunct assistant professor of music at DePauw University and director of DePauw's jazz ensemble (seen standing at right in photo with Mark Buselli). A total of four DePauw School of Music faculty members play in the BWJO: Randy Salman, professor of woodwinds; Leonard Foy, associate professor of music; Jack Helsley, adjunct assistant professor of music; and Brent Wallarab.
"Wallarab set himself the challenge of adapting the Bloomington native's songs to a contemporary big band," the column continues. "From the start, the 17-piece ensemble put the capacity audience of 615 on notice that even toe-tapping might be a challenge: The concert opened with Jubilee, subjected to a dizzying variety of tempos that never robbed the song of its joyous momentum."
Later, Harvey writes, "Homespun was the fabric out of which Carmichael and many other pop icons in the first half of the 20th century wove their celebrity. Translated into music, this lack of pretentiousness had a role to play in Wallarab's ingenious combination of Washboard Blues and Up a Lazy River. A few little duets -- clarinet and bass, trombone and muted trumpet -- were tucked into the arrangement in

a bantering style recalling a conversation among friends sitting on the front porch. Even when the score rose up in full cry, it never lost its sense of innocent fun."
You can read the article in its entirety at the Star's Web site by clicking here. A previous story about the Buselli/Wallarab Jazz Orchestra can be accessed here.
Source: Indianapolis Star
Back