Eve Pawelski '87 Named 'Woman of Distinction' in NY State
September 6, 2002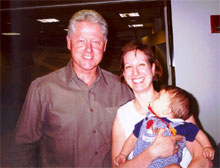 September 6, 2002, Greencastle, Ind. - Eve (McLamb) Pawelski, agricultural economic development director for Orange County, New York and a 1987 graduate of DePauw University, has been honored as a "2002 Woman of Distinction" by New York State Senator Thomas P. Morahan. Pawelski was one of two women to receive the award, which recognizes exceptional achievement, personal excellence and outstanding, courageous or heroic actions on the part of individual women throughout the state.
"I'm really honored that Senator Morahan considered me for this award," Pawelski said. "It is also an honor to be placed in the same class with so many other outstanding women throughout the state." (photo at top shows Eve Pawelski and son Jonah with former President Bill Clinton)
Eve Pawelski's mission to promote and sustain farming is underscored by the more than $93 million in yearly sales generated by Orange County farms in 2000. Pawelski's goals, in conjunction with the County's Agricultural and Farmland Protection Board, is to help keep farms profitable. She has received the Cornell Cooperative Extension's 2000 Outstanding Friend of Agriculture Award, and the New York State Farm Bureau's 2000 Patrick Hooker Award in recognition of her outstanding achievements. Sen. Morahan praised Pawelski for her "advocacy and volunteerism which continues to make our communities very proud."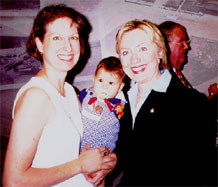 Eve Pawelski also serves on U.S. Senator Hillary Rodham Clinton's Agriculture Advisory Group (click here). She notes, "My husband Chris and I have been lobbying on behalf of Orange County onion growers since 1996. The "Woman of Distinction" award is a result of that work. And in this year's Farm Bill my husband and I were able to see the result of our efforts with $10 million being directed to Orange County, New York onion farmers."
An article in the Times Herald-Record of Middletown, New York was published shortly after Pawelski assumed her new position. You can read it by clicking here.
Back