Chronicle of Higher Education Notes President Bottoms' "Staying Power and Success"
September 9, 2002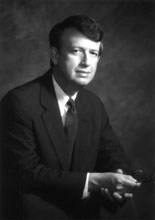 September 9, 2002, Greencastle, Ind. - "Long-term presidents who have had both staying power and success include Robert G. Bottoms, who has led DePauw University since 1986," writes Julianne Basinger in the September 13, 2002 issue of the Chronicle of Higher Education. The article, entitled "Staying Power: How some presidents go on for decades when others are out after a few years," focuses on five college and university presidents who have spent more than 20 years in their positions, as well as others, such as Dr. Bottoms, who make up a select group. As Basinger notes, "Only about 100 presidents of the nation's 1,478 four-year colleges have served more than 15 years in office."
The article states that "Among the previous generation of college presidents, it was not unusual for leaders to serve at a single institution for 15 or more years. Now, many presidents count themselves lucky if they see five years in office at the same place.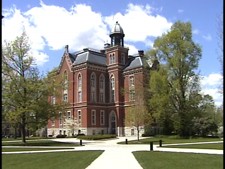 Indeed, the average tenure for public-university presidents is now about five years, and for presidents of private colleges, about seven years, according to the American Council on Education. But building and transforming a college or university typically requires more than five to seven years. Presidents who manage to stay a decade or more have a better chance of achieving lasting accomplishments, higher-education experts say. At institutions where a president stays only a short time, and where the main focus of the role is to be a booster and fund raiser who fosters the status quo, the impact of a presidency in terms of real leadership is diminished, according to many presidents, trustees, and higher-education scholars."
Robert G. Bottoms (seen in photo below with former British Prime Minister John Major) came to DePauw in 1976 as Vice President for University Relations and later became Executive Vice President for External Relations and Executive Vice President. During his years in the latter position, DePauw completed a fund drive of over $120 million for the Sesquicentennial Campaign, which was a record at that time for any college of DePauw's size.
More recently, President Bottoms led the University's "Campaign for DePauw: Leadership for a New Century." Launched in 1996 with a goal of $153 million, the fund-raising endeavor closed in April, 2000 with gifts and commitments of $374.3 million. As a result, DePauw has increased its faculty, constructed new state-of-the-art buildings and renovated existing structures, and been recognized in two consecutive years as a top tier national liberal arts college by U.S. News & World Report. Applications to DePauw have climbed to record levels, and the University, now more selective than at any time in its history, has become a top choice for more of America's best students and is an institution of increasing national distinction.
In recognition of Dr. Bottoms' outstanding leadership and record of success as President, the Council for Advancement and Support of Education named him the 2000 recipient of the CASE V Chief Executive Leadership Award.
Bottoms (seen at right being interviewed by WISH/CBS on April 7, the day of the fire at Rector Hall) has also served a number of educational organizations including the National Association of Schools and Colleges of the United Methodist Church, the National Association of Independent Colleges and Universities, the Association of Governing Boards of Colleges and Universities, Great Lakes Colleges Association, the Japan Foundation and the American Center for International Leadership. A member of the board of directors of The Joyce Foundation, Dr. Bottoms has also served on the governing board of the National Council of Churches.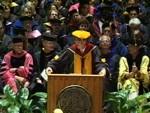 A graduate of Birmingham-Southern College, Emory University and Vanderbilt University, Dr. Bottoms began his career in higher education as chaplain and assistant to the president at Birmingham-Southern. He then became assistant dean and assistant professor of church and ministry at the Vanderbilt Divinity School before coming to DePauw.
You can access the Chronicle of Higher Education's Web site by clicking here (a subscription is required to view all stories).
Source: Chronicle of Higher Education
Back