DePauw 9/11 Quilt Featured in Indianapolis Star
September 10, 2002
September 10, 2002, Greencastle, Ind. - "A year ago, more than a hundred DePauw University students spontaneously gathered on the East College lawn after hearing of the Sept. 11 terrorist attacks," begins a story by Barb Berggoetz in today's Indianapolis Star. "Forming a huge circle, they held hands, bowed their heads and stood silently for a half-hour. On Wednesday, they'll unite there again, an open mike in hand, to talk about the past year, their fears and their hopes," the education reporter writes in a story entitled "Colleges plan Sept. 11 memorials," which includes a full-color photo of the quilt DePauw students, faculty and staff have made to commemorate the anniversary.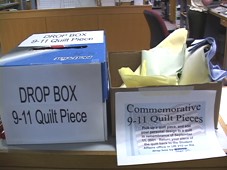 Later, Berggoetz notes, "For the past week, some DePauw students and faculty have decorated 12-inch-square patches for a multicolored memorial quilt that depicts their feelings a year after the tragedy. It will be displayed at the Union Building. 'They put a lot of thought in them. They're quite neat,' said Sandra Glass, an athletic department staff member who is sewing the quilt. She said patches have American flags, poems or simple sayings like 'peace and love.'"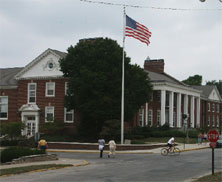 DePauw plans a series of events for the week, which you can learn more about by clicking here.
The Star article quotes DePauw's student body president, senior Edmond Krasniqi, who tells the newspaper, "They really just want to say what's on their minds and share it with others. They want to be a part of something bigger, and this gives them the opportunity."
You can read the article in its entirety, and view the color photograph of the quilt, by clicking here.
Source: Indianapolis Star
Back