Douglas Frantz '71 Appointed Investigations Editor of New York Times
September 10, 2002

September 10, 2002, Greencastle, Ind. - Douglas Frantz, a 1971 graduate of DePauw University, has been appointed investigations editor of the New York Times, an article in today's edition of the newspaper notes. The 52-year-old Frantz has been with the paper since 1994; for the past two years he's served as the Times' Istanbul correspondent. In making the announcement, Howell Raines, executive editor of the Times, said investigative reporting, formerly an interdepartmental desk, would be elevated to a separate newsroom department when Frantz assumes his new duties in a few weeks.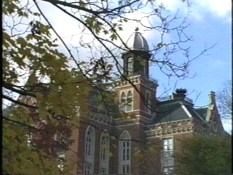 The article notes that Frantz "received a degree in English from DePauw University and a master's degree from the Graduate School of Journalism at Columbia University." Before joining the Times, Frantz worked as a Washington-based investigative reporter and financial reporter for the Los Angeles Times; as an investigative reporter for the Chicago Tribune; and was city editor at the Albuquerque Tribune. His professional newspaper career began at the News-Journal in his hometown of North Manchester, Indiana, where he was a reporter and photographer.
An award-winning journalist who was a finalist for a Pulitzer Prize in 1993, Douglas Frantz has authored or co-authored more than a half dozen books, including Celebration, USA: Living in Disney's Brave New Town, Friends in High Places: The Rise and Fall of Clark Clifford, A Full Service Bank: How BCCI Stole Billions Around the World and

Death on the Black Sea: Destruction of the Jewish Refugee Ship Struma, which is scheduled to be published in February.
You can access the complete article at the New York Times Web site (a free registration is required) by clicking here.
You can read a review of Celebration USA in Business Week by here. Other reviews of the book can be found here and here.
DePauw University, the birthplace of the national journalism honorary fraternity now known as the Society of Professional Journalists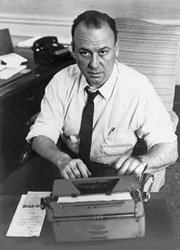 and home to Indiana's oldest college newspaper The DePauw, which recently marked its 150th anniversary (read more here), has a tradition of producing uncommonly successful journalists. The newspaper's alumni include "business journalist of the century" Bernard Kilgore (seen in photo) and Kenneth C. Hogate of the Wall Street Journal, Eugene C. and Eugene S. Pulliam of the Indianapolis Star and Central Newspapers chain, Donald Maxwell, former editor of the Chicago Tribune, Robert Giles curator of the Nieman Foundation for Journalism at Harvard University and former editor of the Detroit News, John McWethy, ABC News Senior Pentagon Correspondent and James B. Stewart, Pulitzer Prize-winning former front page editor of the Wall Street Journal, current editor-at-large of SmartMoney magazine and author of the new book, Heart of a Soldier: A Story of Love, Heroism, and September 11th (read more here). 2002 DePauw graduate Eric Aasen, who served as editor of The DePauw last year, recently accepted a full-time reporting job with the Dallas Morning News, America's tenth largest newspaper (read more here).
Back