Prof. Maurice Manning's Work Featured on Poetry Daily
September 10, 2002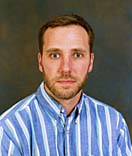 September 10, 2002, Greencastle, Ind. - The poetry of Maurice W. Manning, assistant professor of English at DePauw University and winner of the Yale Series of Younger Poets, the longest-running poetry prize in America, is featured on Poetry Daily, an online anthology of contemporary poetry which each day offers a new poem from books, magazines and journals currently in print. Manning was the featured poet on the Web site Monday, September 9, which posted his "Five Bucolics," which were published in the summer 2002 issue of Shenandoah, which also featured the work of DePauw assistant professor of English and 1999 National Poetry Series winner Eugene Gloria (read more here).
Poetry Daily says the daily poem "is selected for its topical or seasonal interest, as well as for its literary quality." You can access the site's main page by clicking here, or go directly to Manning's poem here.

Maurice Manning has been featured on NPR (National Public Radio), and a New York Times review of his award-winning Lawrence Booth's Book of Visionsopined, "Maurice Manning displays not just terrific cunning but terrific aim."
Another prominent DePauw poet, associate professor of English Joe Heithaus, was featured in the August 2002 issue of Poetry magazine, one of the most influential publications of its kind in the United States. You can read more about that by clicking here.
Back