NBC's 9/11 Coverage Includes Interview with Pulitzer Prize-Winner James B. Stewart '73
September 11, 2002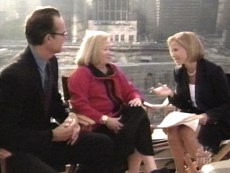 September 11, 2002, Greencastle, Ind. - On this morning's broadcast of NBC's Today, which originated from "ground zero," the site of the terrorist attacks on the World Trade Center one year ago, Pulitzer Prize-winning investigative reporter and author James B. Stewart and Susan Rescorla, whose husband worked and died in the Trade Center, were interviewed by Katie Couric. Stewart, a 1973 graduate of DePauw University who serves on the University's Board of Trustees and is national chair of the Annual Fund, has authored a new book, Heart of a Soldier: A Story of Love, Heroism, and September 11th, which tells the story of Rick Rescorla, who headed security for Morgan Stanley, and is credited with saving countless lives last September 11.
"Looking back on your career, you've written a lot about the lack of integrity in corporate America, the lack of integrity in your view in the American political system,"

Couric said as she asked Stewart what compelled him to write Rescorla's story.

[DOWNLOAD VIDEO: "Noble Human Nature" 622KB] "Katie, I think we all changed because of September 11th, and I felt compelled to write this story. I've never felt anything like it before in my life," Stewart said. "Yes, it's the opposite of the kind of behavior I wrote about before, the worst in human nature. Here was a story, in crystal clarity, that showed the greatest and the best and the most noble in human nature in Rick Rescorla, and I had to tell that story."
With 2,700 workers, Morgan Stanley was the World Trade Center's largest employer. When the first plane hit the north tower, Rescorla ordered an immediate evacuation of Morgan Stanley's south tower offices, even though the official word was that workers should stay put. His decisiveness
meant that the company's employees were safely evacuated. But Rescorla's work was not completed. He stayed in the south tower, leading others to safety with a megaphone. His body was never recovered, but he did have one last phone conversation with his wife, Susan, whom he had married only two and a half years before.

[DOWNLOAD VIDEO: "Final Phone Call" 576KB]

[DOWNLOAD AUDIO: "Final Phone Call" 316KB] "He said to me stop crying ... that 'I have to get everybody out of the building and I want you to know that if something happens to me, you made my life'," Susan Rescorla said. "And then I said 'You made my life, too' and the phone went dead, and then I kept watching the television and then the building came down."
An Army veteran, Rick Rescorla was no stranger to life-and-death situations.

[DOWNLOAD AUDIO: "Epic Story" 290KB] "I really find it [to be] an epic story," says Stewart, who has also authored such best-selling books as Den of Thieves, Blind Eye and Blood Sport. "His life was entwined with so many great historical events: British Colonialism in Africa, the Vietnam War, the protests on American campuses, the financial centers, and he was even there in
the 1993 bombing [of the World Trade Center]. He loved the books of Rudyard Kipling and Joseph Conrad. He could have been a character in one of those novels."
Stewart told the NBC program that Rescorla,

[DOWNLOAD VIDEO: "Fulfillment Found" 431KB] "had a full and wonderful life, largely I think he would say, because of the great love and romance he found with Susan toward the end of his life, but thank God, he found it, because it completed his life."
Rick Rescorla saved the life of his best friend and fellow Army soldier Dan Hill during the Vietnam War. Hill later converted to Islam and speaks fluid Arabic.

[DOWNLOAD AUDIO: "Denial" 576KB] "After the '93 bombing, he went to various mosques in the New York area and he came back to Rick and said, 'They're not giving up. There is virulent anti-Americanism and hatred in this community. These buildings will remain a target.' And they started calling the World Trade Center ground zero in 1993," Stewart noted, adding, "no one wanted to hear that. We went into denial, America went into denial, the Port Authority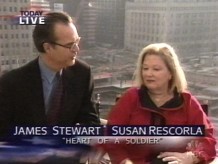 went into denial, and we reaped the consequences." (BONUS CLIP Stewart on the Hill-Rescorla friendship:

[DOWNLOAD AUDIO: "Two Soldiers" 377KB])
Susan Rescorla says, immediately following the events of a year ago today, she asked herself,

[DOWNLOAD VIDEO: "New Mission" 344KB] "Why was I left?" Now, she says, "I have a new mission, and that is to not let people forget not only what happened to Rick, but what happened to America."
You can read more about Heart of a Soldier: A Story of Love, Heroism, and September 11th by clicking here.
Source: Today (NBC)
Back