DePauw Climbs in US News & World Report 'Best Colleges' List; Remains One of America's 'Best Values'
September 13, 2002
September 13, 2002, Greencastle, Ind. - U.S. News and World Report is out with its 2003 listings of America's best colleges and universities, and DePauw University is in the top tier for a third consecutive year. The magazine ranks DePauw number thirty-nine among top national liberal arts colleges. In 2002, DePauw was tied for 40th. U.S. News writes, "For a small school, DePauw offers a multitude of opportunities including strong academics and abundant extracurricular activities."
The report also ranks "Great Schools at Great Prices," and for a second year rates DePauw as among the best values in its category.
Using a formula that relates a school's academic quality to the net cost of attendance for a student who receives the average level of financial aid (as the magazine puts it, "the higher the quality of the program and the lower the cost, the better the deal"), DePauw ranks 7th among national liberal arts colleges.
The 2003 report, available online at U.S. News' Web site now (click here) and at newsstands Monday, is based on 2001 data.
DePauw demonstrated marked year-to-year improvement in a number of categories: the freshman retention rank climbed one percentage point to 88%; the University is ranked 20th for its faculty resources (up fourteen positions from last year); 72% of DePauw classes have fewer than twenty students (up 1%); 52% of freshmen rank in the top ten percent of their high school class (up 3%); DePauw became increasingly selective, accepting 53% of applicants (down 8% ); its ranked 50th for financial resources among national liberal arts colleges (up from 56th); the alumni giving rate of 34% (up 1%) puts DePauw 99th overall in that category, up twelve spots from the last rankings.
"This report validates for some people what we at DePauw and many in the community of higher education already know: that DePauw is a University of increasing national significance,"
said President Robert G. Bottoms. "This survey is but one barometer that parents and students use as they search for a college, but it does underscore the uncommon excellence and value that DePauw offers."
Since first being ranked in the top-tier in 2000, DePauw has each year set new records for applications received, and has become more selective in the students it accepts.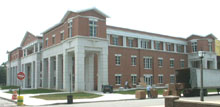 In a first for DePauw, this fall's incoming class was more than full (by 70 students) even before the May 1 deadline date for committing with a tuition deposit. "It's very clear that, instead of viewing DePauw as one of the top schools on their list, many more high school seniors have us pegged as their number one choice," according to Madeleine Eagon, vice president of admission and financial aid. "More young people from across America know of DePauw, and want to spend their college years here. Our faculty, buildings, campus climate and the uncommon success of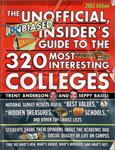 our graduates add up to a very powerful and appealing combination."
The 2003 edition of the Princeton Review's annual guide to The Best 345 Colleges notes, "A unique Winter Term during which students can 'do things you can't do in the classroom' and excellent financial assistance separate this small liberal arts school from the pack (many students say they chose DePauw over the likes of Harvard and Vanderbilt because they couldn't pass up the bargain)" (read more here). The inaugural (2003) edition of The Unofficial,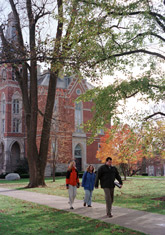 Unbiased Insider's Guide to the 320 Most Interesting Colleges cites DePauw as a top "hidden treasure" and notes, "DePauw's extensive internship opportunities and attention to marketable knowledge and skills bodes well for anyone looking to beat the competition before their careers even begin" (read more here). Yahoo! Internet Life ranks DePauw among the top 10% of all schools its size nationwide as "most wired," that is, having and utilizing the latest technologies (read more here).
"The great generosity of our alumni has allowed DePauw to become what was unimaginable ten years ago," said Dr. Bottoms. "The Campaign for DePauw (which raised $374.3 million) and the historic $128 million gift of Philip F. and Ruth (Clark) Holton have allowed us to increase the size of the faculty, create better environments for learning, exercise and campus life and, in turn, attract the best students in DePauw's history. We have much to be proud of, but there's much work left to do."
Back