DePauw Off to 2-0 Start After Downing Hope College, 28-21
September 14, 2002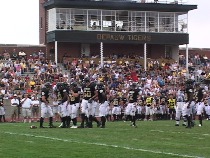 September 14, 2002, Greencastle, Ind. - DePauw University is off to a 2-0 start to the 2002 football season after defeating Hope College 28-21 at Blackstock Stadium this afternoon.
Hope jumped out to a 7-0 lead, but the Tigers countered with a 15-yard touchdown pass from Andy Yoder to Dan Ryan (see it here:
[DOWNLOAD VIDEO: "Yoder to Ryan TD" 497KB]), tying the game at 7 all.
The score remained knotted until midway through the second quarter, when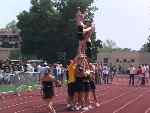 Hope quarterback Phil Butler connected with Devon Quinn on a 24 yard pass for paydirt (see it here:
[DOWNLOAD VIDEO: "Hope TD" 539KB]), giving the visitors a 14-7 advantage.
But DePauw came back fighting. With 1:17 left in the first half, Jackson Rust scampered 16 yards for a touchdown, and after a Hope turnover, DePauw took a 28-14 lead when Matt King plunged in from a yard out with just 6 seconds remaining in the half
(see it here:
[DOWNLOAD VIDEO: "King 1 yd TD" 499KB]).
It was 28-21 Hope with 44 seconds left and Hope was driving when Matt Stahley intercepted a pass, sealing the DePauw victory. A complete game summary with statistics will be available by clicking here.
It was Community Day at Blackstock Stadium. The first 200 children through the gate received a free DePauw megaphone, and fans enjoyed a complimentary pre-game picnic, hosted by DePauw University administrators and sponsored by the DePauw Dining Service in partnership with Sodexho. The halftime festivities included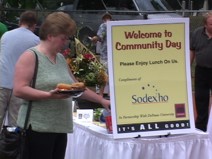 a salute to those who came together on April 7, when fire ravaged Rector Hall, and the local community rallied by donating food, housing, time and supplies to aid the displaced DePauw students. President Robert G. Bottoms recognized Charles Miles, a member of the board of directors of the Putnam County Chapter of the American Red Cross, Greencastle Fire Chief Bill Newgent, and Doug Cox, DePauw's Director of Public Safety.
Back