"Big Names Coming to Greencastle," Business TV Show Reports
September 15, 2002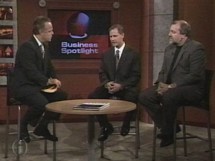 September 15, 2002, Greencastle, Ind. -
[DOWNLOAD VIDEO: "Big Names" 645KB] "Some big names in the world of technology plan to visit the Greencastle campus next month, when DePauw's University's 361° initiative hosts a technology symposium," Gerry Dick told his statewide television audience on Inside Indiana Business this weekend as he welcomed Dennis Trinkle and David Becker to the program. Dr. Trinkle, a 1991 DePauw graduate, is associate coordinator of technology and information systems at the University and Tenzer University professor in Instructional Technology. Becker, an Indiana technology leader and a 1975 DePauw alumnus, is CEO of First Internet Bank and re:Member Data Services (RDS).
"Beyond e: After the Shakeout, the Real Revolution," will take place October 4-5 on the Greencastle campus, and features a keynote address by artificial intelligence expert and author Ray Kurzweil (learn more here and here ).
[DOWNLOAD VIDEO: "Important Player" 990KB] "DePauw's become an important player on the Indiana technology stage," Trinkle told IIB. "A grant from Lilly Endowment introduced a lot of new facilities and initiatives over the past year. This
gives us an opportunity to share our best practices with the state."
In the wake of the economic downturn that has crippled many technology and dot-com firms, Dr. Trinkle says the symposium will present "a blue-ribbon national panel of IT [information technology] leaders and those working in technology-related fields to come and share their vision of what the reality is after the hype; what's going to happen in technology and technology-related companies after all the shake-out has occurred ... where is the revolution going?"
[DOWNLOAD AUDIO: "Prominent Speakers" 285KB] Speakers include Jack Gill, one of America's top venture capitalists and entrepreneurs; Jennifer Kurtz, director of the Indiana Department of Commerce eBusiness division; and Jim Wheeler, president of the Indiana Technology Partnership (see full list here).
David Becker, who will also be speaking at the symposium, told Gerry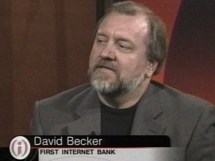 Dick the DePauw symposium,
[DOWNLOAD VIDEO: "A Great Play" 1200KB] "lets the outside world know that, even at the liberal arts level in the smaller universities, there are some great information technology services going on ... It also shows that you can attract, as Dr. Trinkle has pointed out, some top name talent from all over the United States... it's a great mix of local, regional and national players. Jack Gill ... really kind of launched Silicon Valley [and] is going to be here in Greencastle, Indiana to sit down and talk, hands-on, with local entrepreneurs," Becker said.
Going forward, Becker says better days ahead for technology companies.
[DOWNLOAD VIDEO: "Great Showcase" 688KB] "I think the industry as a whole ... past the hype, is in great position.
There are tremendous resources here in central Indiana, there's a lot of great things happening and this just a great way to showcase part of that," assessed Becker, who this summer was presented with the Trailblazer in Technology Award and who serves his alma mater as a member of the Board of Directors of DePauw's McDermond Center for Management and Entrepreneurship.
Trinkle was asked to update 361°, which was launched in March 2001 and equips DePauw students with digital fluency to complement the classic critical thinking, speaking and writing strengths of liberal arts education.
[DOWNLOAD VIDEO: "Terrific Students" 1100KB] "One of the most exciting components, the Information Technology Associates program, has entered its second year. We have 100 students in the program. They do on-campus and off-campus internships. The goal is to make them prepared to go out and be great technologists but also business leaders, and they'll be looking for internships for this summer and next year." Dr. Trinkle says the symposium will offer an "opportunity for area business leaders to come and realize we are plugging the 'brain drain' [the exodus of strong students from Indiana after college graduation]. We have some terrific students who want to stay in the state [after graduation] if there are good opportunities for them."
Source: Inside Indiana Business
Back