Putnam County Relay For Life Wins Regional Award, Nominated Again for National Honor
September 18, 2002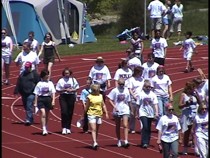 September 18, 2002, Greencastle, Ind. - "I am excited to see that the hard work that Putnam County put into Relay For Life is being recognized all over the country," says Ed Nightingale, co-chair of the 2002 Relay, who graduated from DePauw University in May. Organizers of the annual fundraiser that brings together the people of DePauw and Putnam County each year have just learned that the Putnam County Relay For Life has won the 2002 Heart of Relay Award for the Great Lakes Division, and is now a finalist for the National Heart of Relay Award. The Putnam County Relay was selected last year to receive the prestigious national award, which recognizes America's best youth-led event.
As the oldest college-run Relay For Life in the country, Putnam County's event raised $125,000 on May 4-5, bettering the goal of $100,000 and representing a more than 50% increase over 2001's record total of $80,000 raised. More than 1,300 people walked the Blackstock Stadium track over the 24 hour Relay, up from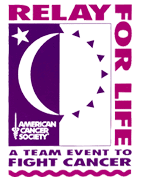 830 walkers the year before. "The DePauw students and Putnam County community members dedicate so much of their own hearts to their Relay," says Teresa Shaffer, the Putnam County representative for the American Cancer Society. "It is fantastic to see them honored. I look forward to the opportunity to have them compete for another national award," she said.
Putnam County Relay For Life has seen phenomenal growth. In 1998, the event raised $20,000. The 1999 total of approximately $30,000 was eclipsed by 2000's $42,000. As noted earlier, the event has collected $80,000 and $125,000 in the past two years.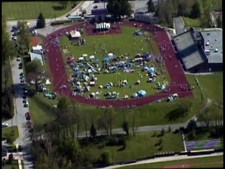 2002's top community team was First National Bank of Cloverdale with over $13,000 in donations. Phi Kappa Psi was the top fundraising all-college student team, raising over $8,000. The youngest team captain was Clay Spencer, a fifth grader from Putnam County.
Relay For Life brings the people of DePauw and Putnam County together for a common goal: to fight cancer. Each year, new friendships are made and new understandings are reached.
[DOWNLOAD VIDEO: "Strengthening Community" 416KB]"It's really one place where there are really no distinctions," 2002 and 2003 co-chair Keith Brackney of Brackney's Western Store in Greencastle has noted. "People don't care where they're from --- whether its DePauw or the community --- town and gown is out the window."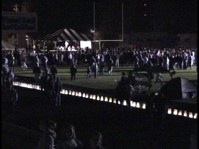 Brackney and fellow 2003 co-chairs Tricia Cooksey and Amanda Manning (both DePauw juniors) and Peg Johnson (from the local community) are busy preparing for the next Relay, set for May 3-4, 2003 at Blackstock Stadium on the DePauw campus. If you'd like more information on the event or would like to be a part of it, call Cooksey at (765) 653-1270 extension 609, or Brackney at (765) 653-9464, or send an e-mail by clicking here.
You can get a flavor of what Relay For Life is all about in a video created by Chris Newton '85 of DePauw's Pulliam Center for Contemporary Media. Clips are accessible (along with even more information) in this previous story.
Back