Willis "Bing" Davis '59 Profiled in Ceramics Monthly
September 23, 2002
September 23, 2002, Greencastle, Ind. - A Ceramics Monthly profile of Willis "Bing" Davis, retired chair of the art department at Ohio's Central State University and a 1959 graduate of DePauw University, notes that "Davis began working with clay as a student at DePauw University in Indiana [where he] met ceramics professor Richard Peeler, who was the first person he had known who not only loved clay, but had devoted his life to the medium. Davis was also impressed with Peeler's commitment to teaching and his philosophy of letting the students 'find their own voices in art.'"
The article in the September issue continues, "Following in his mentor's footsteps, Davis became a teacher after graduation. He taught for over 40 years, yet always found time to be productive in the studio." Ceramics Monthly's Chris Garcia writes that before coming to Greencastle, Davis "had always been interested in art, but he had also excelled as an athlete in basketball and track.
His athletic ability led to a basketball scholarship that allowed him to pursue an education in art."
Davis tells the publication that when he retired in 1998, "I was worried I'd miss interacting with students, but I've continued giving lectures and workshops." Later in the story, he says, "I remember as a child playing with clay after it rained. It felt mystical, godlike and humbling. When you deal with clay, you're dealing with the most precious thing on Earth. It's a sacred trust and honor being able to alter such an important substance." (Davis' Thrown and Altered Form, which is depicted in the magazine, is seen in photo at right)
Davis' art spans a variety of media, including drawings, ceramics, mixed media, photography and installations.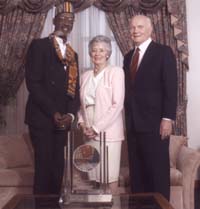 His work has been exhibited throughout the world and is included in the collections of many esteemed collectors.
Last fall, Davis was appointed to the traveling exhibit advisory committee of the Martin Luther King Jr. National Memorial Project Foundation. The committee is creating a memorial dedicated to the work and life of Dr. King for the National Mall in Washington, D.C.
Bing Davis also created an original work of art for the University of Dayton 2001 Leadership with Virtue Award that was presented to John Glenn (Davis is seen with the former US Senator and astronaut in photo at left).
Founded in 1953, Ceramics Monthly bills itself as "the world's most widely read ceramic arts magazine." You can learn more at its Web site, accessible by clicking here (stories are not available online, only a table of contents and other information).
Source: Ceramics Monthly
Back