Journal Gives Prof. Bob Hershberger's Interactive Textbook a Thumbs Up
September 30, 2002
September 30, 2002, Greencastle, Ind. - The electronic version of Plazas, a first-year Spanish textbook that was overseen by DePauw University assistant professor of Spanish Bob Hershberger, gets a very positive review in Hispania, the journal published by the American Association of Teachers of Spanish and Portuguese (AATSP). The interactive program, which complements the traditional textbook, allows students to hear the recorded voices of people from 15 different Spanish speaking countries, so they can learn the proper pronunciation of words and become better listeners and more understanding of cultural and regional nuances.
"In both the CD-ROM and the Web site, Plazas... incorporat[es] a variety of cultures from the Spanish-speaking world and expose[s] students to a variety of accents and cultures," writes Felicia Rader of the University of Texas at Austin. "Because the CD-ROM and the Web site are self-paced, incorporate several different styles of questions, include video narration in a way that keep students interested, and focus on so many cultural topics that are completely intregrated to every aspect,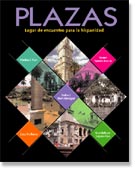 the Plazas materials that have been reviewed here are of high quality and would be enjoyed in the classroom by many students."
Dr. Hershberger, the lead author of the print version of Plazas, shepherded the development of the CD-ROM. In the spring, he told the journal Higher Learning - Technology Serving Education, "The Plazas e-textbook is a powerful complement to our program. It's as easy to use as a conventional book, but offers the interactivity of cutting-edge technology. After a few weeks of using it, students will convince even the most skeptical instructor of its intrinsic value to the curriculum."
You can read more by clicking here. Learn about Plazas here.
Back