Former Congressman Lee Hamilton '52 Weighs In on Iraq, 9/11
September 30, 2002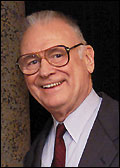 September 30, 2002, Greencastle, Ind. - As the United States weighs its options in regards to Iraq, "Congress owes the American people intense consideration of the issues," writes Lee Hamilton, a retired US Congressman and member of President Bush's Homeland Security Council, in today's Indianapolis Star. A 1952 graduate of DePauw University, Hamilton is also director of the Woodrow Wilson International Center for Scholars in Washington, D.C.
He notes, "Bush has not yet decided to go to war, and Congress should not authorize doing so until it is satisfied the US knows how it will conduct the war, how it will respond to Iraqi use of weapons of mass destruction, what the specific objectives are, and what US responsibilities will be if [Saddam] Hussein is ousted."
In his op-ed piece, Hamilton, a Democrat who served 34 years in Congress and chaired the House Intelligence Committee, later states, "the goal of
U.S. action should be the swift and comprehensive disarmament of Iraq's weapons of mass destruction by any means necessary, including the use of force. If disarmament can be achieved without going to war, that should be our preference. The resolution should also commit the U.S. to a sustained effort to create a stable and democratic Iraq." You can access the entire column at the Star's Web site here.
Lee Hamilton is also quoted in an Associated Press story today, entitled "Congress Blames Self in 9/11 Failure." You can read it by clicking here.
Back