Volunteer and 'Make A Difference' This Saturday
September 30, 2002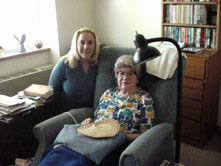 September 30, 2002, Greencastle, Ind. - Want to spend a few hours improving your community, making new friends and having fun? This Saturday, October 5, is Make A Difference Day in Putnam County, part of a national day of volunteering and community service. DePauw students, faculty and staff and members of the local community are invited to come together in the spirit of fellowship and fun for an event that promises to Make A Difference in local lives.
Volunteers are needed for two sessions: from 9 a.m. to noon, and from 1-4 p.m. The Hartman Center for Civic Education and Leadership will be coordinating a variety of initiatives. Volunteers will be sent to the library to read to children, to visit the residents of local nursing homes, and to make improvements at Robe-Ann Park, Jacer Inn, Hope's Way and the ropes course.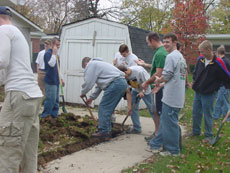 Bring yourself, your friends and/or your family. If you don't have time to volunteer, the Hartman Center will also be collecting canned food, which will be donated to Meals on Wheels, and money that will benefit at-risk mothers served by Healthy Families.
Make A Difference Day is an opportunity for Putnam County to display its pride, bring smiles to many faces and improve the collective community spirit. For information on how you can Make A Difference Saturday, call (765) 658-5252 or send an e-mail by clicking here.
Back