DePauw's New Art Center Named in Honor of Alumnus & Former Faculty Member
October 2, 2002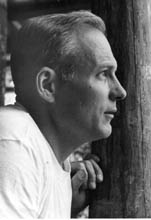 October 2, 2002, Greencastle, Ind. - DePauw University's new art building, the first in DePauw's 165-year history to be dedicated to the teaching, creation and display of art, will be named in honor of Richard E. Peeler. The decision to honor Peeler, an alumnus of DePauw and faculty member for fourteen years, was made by the major donors whose gift made the building, which opened in August, possible. The donors have not been publicly identified.
A 1949 graduate of DePauw, Peeler returned to his alma mater in 1958 to teach ceramics, sculpture and photography. He retired in 1972, and with his wife and partner, Marj, worked as a full-time potter in Putnam County until his death in 1998.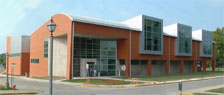 "Dick Peeler is truly a local legend --- both on the DePauw campus and throughout the Putnam County community," says DePauw President Robert G. Bottoms. "He touched the lives of many students as a professor of art, and people came from miles around to view and purchase the works he and Marj created in their studio over the years. The Peeler Art Center stands as a tribute to a man who loved art, and whose love for teaching embodied the unique faculty-student interactions that are so much a part of DePauw's heritage."
"I am overwhelmed," says Marj Peeler. "DePauw University meant so much to Dick, and his students were always a source of pride, friendship and inspiration. It's difficult to describe how I feel. My husband studied at DePauw, taught at DePauw, photographed campus activities and loved this University. It's touching to know that his name and legacy will continue to impact future generations of DePauw students."
A native of Indianapolis, Dick Peeler continued his education at Butler University and Indiana University and taught at Arsenal Technical High School in Indianapolis for seven years before returning to DePauw as a faculty member in the art department.
Through his 14 years at the University, Peeler expanded the art department's offerings in ceramics and developed a loyal following among students. During his 1965-66 sabbatical, Peeler served as a visiting lecturer at Kyoto City College of Fine Arts in Japan. He resigned his teaching duties at DePauw in 1972 to pursue full-time the creative and artistic interests he shared with Marj in a studio near their home in Reelsville, Indiana. In 1986, DePauw's art department honored Richard and Marj Peeler with a retrospective exhibition of their work.
David W. Herrold, professor of art, coordinated that exhibition. "Richard Peeler was a prominent member of a generation of ceramic artists who transformed the traditional craft of vessel making into an academic discipline and an art form in the United States," Herrold says.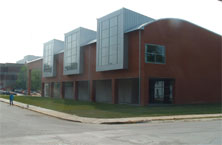 "Richard's participation in the formation of the National Council on Education for the Ceramic Arts (the professional organization for ceramics) created the foundation of professional standards for the medium. His travels to Japan to make films about Japanese traditions helped introduce ideas about ceramic aesthetics and provided a point of departure for serious artists at a time when the United States had few traditions of its own. All of us in succeeding generations are indebted to Richard for the foundations he helped lay and it is very appropriate that he be remembered in this way."
A member of the DePauw University Athletic Hall of Fame, Dick Peeler also left a lasting legacy for the Tiger football program.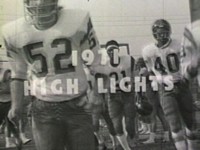 For 39 years, in every kind of weather while perched atop the press box at Blackstock Stadium and other football fields, Peeler produced game films for DePauw's football program that helped coaches and players review and prepare for games. Viewers of this year's Monon Bell telecast will be able to view some of the vintage footage which now resides in DePauw's Archives. New "Monon Memories" montages, produced by director of media relations Ken Owen '82, will air during time-outs and include Peeler footage of classic games that has seldom, if ever, been seen publicly.
Designed by internationally-acclaimed architect Carlos Jiménez, professor at Rice University's School of Architecture, the Peeler Art Center features large windows that welcome in light and functional, state-of-the-art space optimal for the teaching, creation and presentation of art.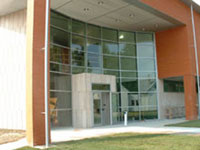 Included among the Peeler Art Center's 80,000 square feet are a large exhibition space; a 90-seat auditorium with state-of-the-art acoustics, designed for public events, films and recitals; classroom and studio space for pottery, sculpture, painting and photography; and offices for the art department faculty. "Having this large exhibition space will allow DePauw to attract exhibits we were not large enough to host in the past," Dr. Bottoms says. "The result will be that more artists, historians, teachers and lovers of art will come to Greencastle, which will enhance our programs and our reputation."
The Peeler Art Center will be formally dedicated Old Gold Weekend, Friday, October 11 at 5:30 p.m., and the public is invited to attend. That evening will also mark the opening of an exhibit by the architect, Mr. Jiménez.
Back