A Record Month! DePauw.edu Gets 7.26 Million September 'Hits'
October 3, 2002
October 3, 2002, Greencastle, Ind. - It may not have been audible, given the hustle and bustle that accompanies the start of a new school year, but a record fell at DePauw University during the month of September. The University's Web site, DePauw.edu, received 7,260,618 "hits" last month, the most in its history, eclipsing the 7,244,285 logged in April, when news on the fire at Rector Hall took the site to never-before-seen levels of use. New records were also set for page views (1,302,091) and visits (362,884).
"The numbers demonstrate that more people are coming to DePauw.edu on a daily basis to read the news, learn about the faculty and programs of the University, and find out how the athletic teams are doing," says Scott Cooper, DePauw's Web director.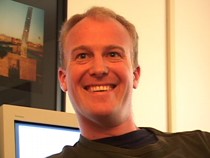 "When you consider that some colleges that are ten to twenty times larger than DePauw boast of getting three million "hits," our totals are even more impressive, and suggest our content and navigability make DePauw.edu a site people visit often, and spend a fair share of time looking around."
DePauw's site attracted 64,445 unique visitors (individual computers that logged on; each is counted only once per month) in September. That is the third best showing, behind April (75,914) and May (73,537). But the September total almost doubles the 38,056 unique visitors from September 2001 (when there were 4,731,435 "hits") and comes close to tripling the 24,621 unique visitors in September 2000 (when the site received 2,869,341 "hits").
Web mail, used by DePauw students, faculty and staff, is not included in the totals.
"As more students use the Internet to learn about a college, our site is a very important ambassador for DePauw," says vice president for admission and financial aid Madeleine Eagon. "DePauw is a very vibrant place, and DePauw.edu reflects that. Visitors quickly realize this is a place where a lot of good and interesting things happen, with a strong faculty, uncommonly successful alumni, and that DePauw is a University of increasing national significance. There's something new on our Web site every day, which underscores the fact that DePauw is not standing still and has a lot of stories to tell."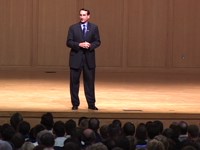 Popular draws during September were stories on the Ubben Lecture by Mike Krzyzewski (click here and here), the U.S. News & World Report rankings that showed DePauw climbing among the nation's top liberal arts colleges (read more here), and the athletics page (click here).
"There are a lot of places people can spend their time on the Internet," offers Ken Owen, director of media relations and a 1982 DePauw alumnus, who writes and maintains the news content on DePauw.edu. "It's gratifying that the number of people who seek out DePauw online continues to grow, and it fuels the desire to provide even more for our visitors."
The Web Team is in the process of redesigning the site, and you'll see changes in early 2003. "We continue to strive to make DePauw.edu as content-rich and user-friendly as possible," Cooper says. "As technology changes, and new opportunities emerge, we intend to be on the front line in delivering even more to the people who come to our site. In short, the best is yet to come."
Back