Noted Art Dealer Jane Haslem '56 Featured in Decor
October 4, 2002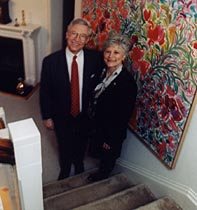 October 4, 2002, Greencastle, Ind. - Jane Nehf Haslem, owner of Washington, D.C.'s noted Jane Haslem Gallery, a pioneer in the display and selling of art online and a 1956 graduate of DePauw University, says of her success, "Serendipity is, I guess, a good word for it." Haslem is featured in the September 2002 issue of Decor magazine, which notes that Haslem "started out in the business of making art, not selling it... Armed with a keen interest in art, particularly as it pertains to modern masterworks, Haslem graduated with a B.A. degree in painting from DePauw University in Greencastle, Indiana in the 1950s. A talented painter, Haslem continued to do so after graduation" (Jane Haslem is pictured with her husband, Jack, standing in front of a painting by Gabor Peterdi).
The magazine notes that Haslem opened her first gallery in Chapel Hill, North Carolina in 1960, and presented an exhibition by Leonard Baskin. Galleries in Madison, Wisconsin and the nation's capital followed. "It wasn't a big show of Renoirs or Monets that put Haslem on the Washington, D.C. radar," Decor's David O'Neill writes. "Instead, it was comic strips." Haslem hosted a show featuring the work of Garry Trudeau, creator of Doonesbury, a concept for an exhibition that was relatively new in the art world at the time. "I decided to
do it anyway," Haslem says. "The original drawings for comic strips had never been sold, at least in thsi way, so I wanted to prepare him. I said 'Garry, none of these might sell, so if you get embarrassed, come back and sit in the office.' Well, we sold out the whole show opening night."
Today, Jane Haslem represents 100 artists through her gallery: a four-story, 116-year-old townhouse just off Dupont Circle. The article notes that Haslem's gallery "specializes in American art of the last half of the 20th century. Her inventory includes paintings, prints, drawings and other works on paper, and the gallery is well known for boasting an in-depth collection of prints by those artists who were responsible for reviving printmaking in the United States subsequent to World War II." She's also chief executive officer of Artline.com, an interactive online gallery involving 675 art dealers and more than 1000 artists (access it by clicking here).
"I believe one should study to become an art dealer," Haslem tells Decor. "This is a knowledge-rich business,

and one must know and understand as much as possible. I not only majored in painting, but did graduate work in art history. When I first started, I took long trips and stopped at art galleries on the East Coast and Chicago. Since that time I have visited most galleries in large metropolitan cities in the United States and in Europe. I know dealers and their inventories all over the world and I continue to learn."
She adds, "When one is starting out, it is best to focus on a specific artist or period or media and become an expert on one thing. For example, stand in front of a painting and talk about it for at least an hour, just by observing it. [Then] learn about the artist, the artist's place in history, and so on. It never ends, but the knowledge and insight is richly rewarding."
Back