MSNBC President Erik Sorenson's ('77) Campus Visit Noted in 2 Newspaper Stories
October 7, 2002
October 7, 2002, Greencastle, Ind. - A campus visit by MSNBC President and General Manager Erik Sorenson '77 is noted by the Indianapolis Star's weekly political insider column, "Behind Closed Doors." This week, it notes "You may have read where CBS anchorman Dan Rather was critical of his media colleagues for not grilling government officials in the wake of Sept. 11. During a forum at DePauw University last week, Erik Sorenson, president of the cable news channel MSNBC and former executive producer of the CBS Evening News, said he thinks Rather was on target."
Sorenson told the gathering at Watson Forum of the Eugene S. Pulliam Center for Contemporary Media,
[DOWNLOAD AUDIO: "Patriotic Fervor" 1000KB]"A lot of journalists to this day are cowed by the patriotic fervor that's in our country in the wake of September 11th. So to question the government, to question the president, to question the CIA or the FBI or the Pentagon in the midst of that is an awkward experience."
Sorenson appeared with 1969 DePauw graduate Bob Steele, senior faculty member and ethics and diversity group leader at the Poynter Institute. The session was moderated by David A. Bohmer, director of the Pulliam Center for Contemporary Media at DePauw University and a 1969 alumnus. The MSNBC chief revealed that his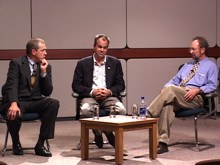 network is preparing to launch a nightly program that will focus on the situation in Iraq (
[DOWNLOAD VIDEO: "Iraq on MSNBC" 798KB] ), that journalism was "always more art than science, but is now almost all art" (
[DOWNLOAD AUDIO: "Art and Science" 726KB]) and underscored the fact that unlike over-the-air networks, cable outlets are
[DOWNLOAD AUDIO: "External Pressures" 653KB]"largely unregulated... [but] we pay attention to pressure. And we get more pressure [from special interest groups] now than ever in my 25 years in television-- pressure from the outside to broadcast the news in a certain way is ferocious. It is quite unsettling to me, I must say."
After the event, Sorenson was interviewed by the Star's TV-radio critic, Marc Allan, who devoted his October 8 column to the story (read it here). You can access the "Behind Closed Doors" story at the newspaper's Web site by clicking here.
Back