Plans for 2002 Monon Bell DVD Announced; Pre-Order and Save
October 7, 2002

[DOWNLOAD VIDEO: "See The Ballad of the Monon Bell" 9364KB]

[DOWNLOAD AUDIO: "Hear The Ballad of the Monon Bell" 2900KB]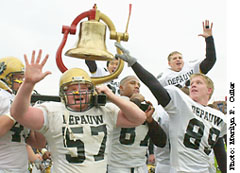 October 7, 2002, Greencastle, Ind. - "The feedback has been tremendous, so we'll do it again this year," says DePauw University director of media relations (and 1982 graduate) Ken Owen of the Monon Bell DVD. A disc of the thrilling 2001 game was produced by DePauw University and sold to fans of both DePauw and Wabash College through the Internet, campus bookstores and an Indianapolis Borders Books and Music store, and was reviewed in the Indianapolis Star. DePauw and Wabash will jointly produce this year's DVD, which is available at a special "early bird discount." Through November 15, fans can pre-order the 2002 DVD at a special price of $12 (copies of the disc will be $15 after that date). You can pre-order your disc by clicking here.
In addition to providing pristine video and audio quality, the DVD's interactive menus will allow you to jump immediately to any of the game's key points. "There's no rewinding, the picture quality is almost two times better than VHS tape, and discs should give you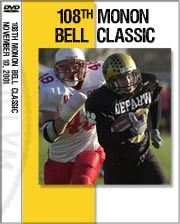 many more years of enjoyment than tape," says Jim Amidon, director of public affairs and marketing at Wabash College. "DePauw took the lead in making a disc of last year's game, and the result and response were both terrific. We're excited to be a partner in this."
"For the players, their parents, and fans of football everywhere, the 2001 DVD was a huge hit," remarks Bill Wagner, director of sports information at DePauw. "We're hoping we can make the discs an annual tradition. I don't know of another college rivalry that produces a DVD, and this is another way to underscore the uniqueness of the Monon Bell."
Football lovers can also grab remaining copies of the 2001 Monon Bell game at a special price of $10 (click here to order). The 122-minute program contains every play of the game, some of the sideline features and a few bonus surprises that are hidden in some of the menus, including the original Ballad of the Monon Bell music video.
"One of the themes we'll be stressing in this year's telecast is the great traditions and fantastic finishes that have created a treasure trove of Monon memories," Owen noted.
Amidon, his counterpart at Wabash, added,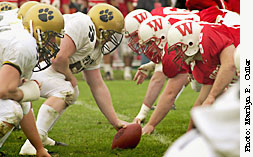 "The DVDs preserve those memories in a high-quality, affordable, durable and convenient medium that students, parents and alumni of both schools tell us they love." (Get a sneak peek at the "Monon Memories" clips, produced by Owen, that will run during time-outs throughout the telecast, and will be included on the DVD:

[DOWNLOAD VIDEO: "1955 Game" 1400KB] ,

[DOWNLOAD VIDEO: "1990 Game" 1200KB] ; more will be posted in future articles.)
The 109th meeting between DePauw University and Wabash College will take place Saturday, November 16, 2002 at 1 p.m. at Little Giant Stadium in Crawfordsville. Watch this space in the coming days for information on tickets and telecast parties, which are being planned in cities around the United States.
Back