President Bottoms Invites HS Students to Consider DePauw's Community and Uncommon Success at Indianapolis Reception
October 8, 2002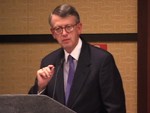 October 8, 2002, Indianapolis, Ind. -
[DOWNLOAD VIDEO: "Two Questions" 997KB] "There are a lot of choices," DePauw University President Robert G. Bottoms told high school students and their parents who, along with DePauw alumni, gathered for tonight's Presidential Reception at the Hyatt Regency in downtown Indianapolis. "You know you have a lot of choices. And as you make those, I'd like to ask you to focus on two questions. The first is, not so much where you want to go to school, but what community do you want to live in? And, what do you want to be doing five years from now?" The event drew a record crowd: 215 prospective students attended, compared with 116 last year. They, their parents and about 60 DePauw alumni filled the large ballroom to hear DePauw's uncommon success story.
DePauw is a community that enjoys economic, racial and geographical diversity in its student body and faculty, and intellectual rigor in its academic programs, the President noted.
[DOWNLOAD AUDIO: "Bright Students" 412KB] "Don't you really want to go to school with students who are bright?," Dr. Bottoms asked the high school seniors in the room. "We have very bright students at DePauw, and statistically, at least, our students are getting brighter every year."
The Campaign for DePauw, which raised $374.3 million, has allowed the University to increase the size of its faculty from 160 full-time members four years ago to 222 today.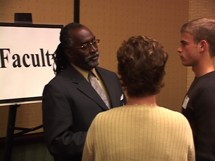 The resulting ratio of one faculty member for every ten students keeps classes small, allowing for individualized attention and enriching opportunities for learning. Dr. Bottoms, who as a student attended schools both large and small, said there is much to be said for the small college experience.
[DOWNLOAD VIDEO: "Influential Relationships" 834KB] "As I think back, and I do every admission season, on my experience as a student -- and I was a professional student for 9 years -- any faculty member I can think of now who had an influence on my life, I met in a small class, and developed the kind of relationships our faculty do develop with their students."
The president pointed out that many DePauw faculty members also publish books and make presentations around the nation and the world, and he made mention of the recently announced National Science Foundation grant of $841,000 that will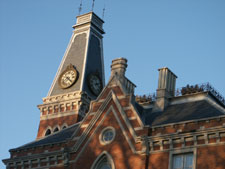 support an interdisciplinary research collaboration involving seven DePauw faculty members in four departments as well as 21 students (read more here).
[DOWNLOAD AUDIO: "Outside Validation" 413KB] "As many colleges as there are in the country, think about how good a science faculty has to be to win [a grant of that size]," Bottoms said. "The outside validation amidst all the competition is an indication that our faculty is as good as we say."
The innovative 361° initiative, which equips DePauw students with high-tech skills along with the classic critical thinking the University has taught for generations,
also sets DePauw apart, the president said.
[DOWNLOAD AUDIO: "Mastering Technology" 204KB] "For the parents in the room, I think our young people are needing to master technology today in some of the ways that educators told us when we were in school that we needed to master foreign languages." Dr. Bottoms invited students and their parents to visit the DePauw campus, and see the renovated and expanded Julian Science and Mathematics Center (which is also the home base for 361°), the new Peeler Art Center and the national award-winning indoor tennis and track center for themselves.
The DePauw community also features a variety of opportunities for learning, service and social growth outside of the classroom, the President noted.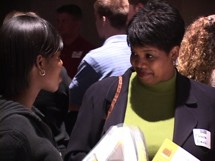 More than 60% of DePauw students volunteer, the University has a very strong fraternity and sorority system, an award-winning student-run newspaper and radio station, off-campus internships, unparalleled opportunities (DePauw was recently ranked first nationally) for studying abroad and one of America's top Division III athletic programs.
[DOWNLOAD AUDIO: "14th" 316KB] "There are 395 schools in Division III. Three hundred and ninety-five. We were 14th last year in terms of the quality of our athletic program as measured in the Sears Cup ... all across men's and women's sports," Bottoms said, adding that the coaches of the women's golf, women's basketball and men's basketball were all recipients of 2002 "Coach of the Year" awards.
The University hosts a number of speakers each semester. Last month's guests included Harry Belafonte and Mike Krzyzewski.
The president recalled,
[DOWNLOAD AUDIO: "John Major at DePauw" 492KB] "I was pleased last year, and really taken aback when former British Prime Minister John Major came in to a luncheon meeting where we were hosting members of our class before he was to speak to the whole campus that evening, takes off his coat, throws it over a chair and said 'What do you want to talk about?' This was not long after September 11, and to have a former prime minister talking up-to-date, across the table... it's a quality experience."
President Bottoms closed his address by repeating his second question,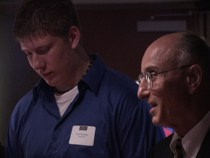 "Where do you want to be in five years?" He asserted that with the immersive experience that DePauw provides -- in the classroom, on the campus, and in the real world through internships and opportunities to study abroad -- students are able to "test out" their interests and skill sets and graduate with clear goals. "If you want a painful experience with your children," he told the parents,
[DOWNLOAD AUDIO: "The Decision" 876KB] "it's to talk with them in their senior year [of college] or right after graduation, and say 'What do you want to do?' and they say 'I don't have any idea.'
Well, what kind of community do you want to be in, and where do you want to be in five years? A lot of schools have a lot of answers. Some will be appropriate for you, some won't. DePauw will be appropriate for some of you, and maybe not for all of you. Think about the kind of community you want to be in. Think about where you want to be in five years. Come over, look us over and see how we match up. We're just delighted to have you be interested in us."
Guests were welcomed to the reception by Madeleine Eagon, Vice President for Admission and Financial Aid, who said,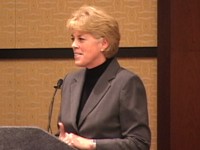 [DOWNLOAD VIDEO: "Increasing National Significance" 730KB] "Applications for admission to DePauw have climbed to record levels, and the University, now more selective and with a stronger academic profile than at any time in its history, has become a top choice for more of America's best students.
DePauw University truly is an institution of increasing national significance."
Two more Presidential Receptions are planned, for November 6 at Procter and Gamble's headquarters in Cincinnati, and November 19 at General Mills in Minneapolis. You can register for those events and learn about other admission programs, by clicking here.
(photo of John Major by Marilyn E. Culler)
Back