Young Alumni Award Recipient Tony de Nicola '86 Subject of Newspaper Profile
October 10, 2002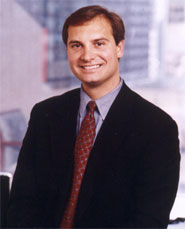 October 10, 2002, Greencastle, Ind. - Tony de Nicola of New York-based private equity investment firm Welsh, Carson, Anderson & Stowe (WCAS) and a 1986 graduate of DePauw University, says that early in life, "I learned to set goals that are not just attainable, but goals you have to stretch to reach." The Battle Creek Enquirer notes, "His theory paid off. Now a partner with a private equity investment firm on Wall Street, de Nicola will receive DePauw University's Young Alumni Award on Saturday." A native of Albion, Michigan, de Nicola is profiled in today's edition of the newspaper.
Writer Sonya Bernard-Hollins notes, "de Nicola learned early to reach for success when his mother, Carol, encouraged all five of her children to graduate from high school and go to college. The single mother never had completed college herself, but knew it would be the key to her children's futures. De Nicola was class valedictorian at Albion High School and one of the stars of the football and basketball teams, among many activities.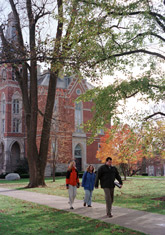 He selected DePauw in Greencastle, Indiana, because of its reputation as a strong liberal arts college and its dedication to foreign-study programs. While there, he was quarterback of the football team, eventually being named a captain and setting the school record for most touchdowns thrown in a game (five in three different games his senior season). He also played baseball, as well as making strides as Phi Beta Kappa, Rhodes Scholar candidate and recipient of the Walker Cup, which recognizes students who contributed the most to the university during their four-year college career. His active involvement with the school includes being a football recruiter, serving on the Alumni Board from 1993-99 and as its president from 1995-97, and serving on the Board of Trustees from 1997-2001. He also was the school's first Management Fellow, later graduating in 1986 from the school, summa cum laude, with a major in economics. He received a master's in business administration with distinction from Harvard University."
The story notes that de Nicola recently led WCAS' $7 billion acquisition of Qwest Communications' yellow pages business, "the largest leveraged buyout since 1989. His philanthropic interests focus on improving inner-city education and reducing poverty and hunger. He attributes his success to his beginnings at Albion High School and DePauw University. 'DePauw helped me take my focus to the next level," said de Nicola. 'It would have been easy to settle for doing things the easy way. But if I had, I wouldn't be where I am today. Students should keep focus and reach higher than they believe they can. I did that. Who knew (when I was in high school) I would be working on Wall Street today?'
You can read the complete article, which also quotes DePauw University President Robert G. Bottoms, by clicking here.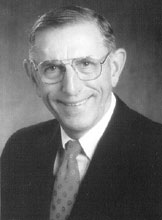 David B. Stevens, M.D., a member of the Lexington-Fayette Urban County Council, retired chief surgeon of the Shriners Hospitals for Children in Lexington, retired professor of surgery at the University of Kentucky College of Medicine and a 1951 graduate of DePauw, will be awarded the Old Gold Goblet by his alma mater this weekend. The Old Gold Goblet recognizes "eminence in life's work and service to alma mater."
A Kentucky native, Stevens graduated from DePauw in 1951, where he was a Rector Scholar and a member of Phi Beta Kappa and Sigma Nu fraternity. Dr. Stevens has served DePauw in a myriad of ways: providing career counseling to students, meeting with prospective students interested in the University, and serving as executive-in-residence at DePauw's Robert C. McDermond Center for Management and Entrepreneurship, on the Board of Visitors and Alumni Board,
and as chair of the Washington C. DePauw Society and of his 50th class reunion, where he received an Alumni Citation.
"For many years, David Stevens has carried the torch for DePauw, helping current students and galvanizing alumni," said DePauw University President Robert G. Bottoms. "Through his work in healing others and bettering his community, Dave really embodies the uncommon success of DePauw graduates that the Old Gold Goblet recognizes and celebrates."
This weekend, the University will also honor four alumni with receive Distinguished Alumni Achievement Awards: Management and Entrepreneurship: Thomas P. Cooper '66, M.D.; Media: James Barbieri '50; Citizenship and Voluntary Service: Engrid Hitch Meng '66; and Professional Achievement: Richard E. Hamilton '49. Six new members will be inducted into DePauw's Athletic Hall of Fame: Dale D. Anderson '62, James M. Callane '64, Patrick M. Ewing '58, Brian J. Jaworski '89, Laurence F. Skelton '60, and Richard P. Tinkham '54.
You're invited to come to campus and join in the celebration of friendship and uncommon success. For more information on Old Gold Weekend, click here or here.
Back