"Exciting Time" for DePauw, A "Hot School," Board Chair Judson Green Reports
October 11, 2002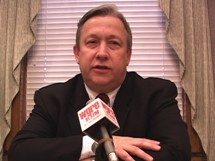 October 11, 2002, Greencastle, Ind. -
[DOWNLOAD VIDEO: "Enormously Excited" 531KB] "We talked about a wide range of subjects, as we always do," said Judson C. Green Jr., chair of DePauw University's Board of Trustees this afternoon at the close of the group's fall meeting. "I think the headline that I would like to share is that we're just enormously excited about DePauw and the momentum that we have built up, the progress that we have made, and the vision that we have for the future. It's a very exciting time," Green told student reporters at a news conference in the Memorial Student Union Building.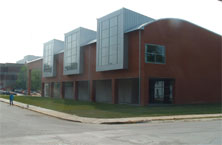 The board chairman spoke just 90 minutes before the dedication of the new Peeler Art Center, and a day before the dedication of the Holton Memorial Quad. With the expansion and renovation of Julian Science and Math Center continuing, and DePauw nationally rated a top tier university for the third consecutive year, Green said,
[DOWNLOAD AUDIO: "DePauw's Future" 144KB] "There's been so much that has been accomplished over the course of the last 2 or 3 years, and we still have a lot of plans that we're executing that we'll be exciting for DePauw's future."
Green noted,
[DOWNLOAD AUDIO: "Difficult Time" 199KB] "We're obviously going through a very difficult economic time right now, and the endowments of virtually every college and university we know of have declined as a result of what's happened in the marketplace." But he says DePauw's portfolio, which is diversified, has weathered the storm better than some other schools.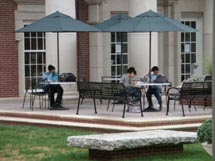 But Green says the current environment "renews the need to raise funds," so that DePauw can continue to attract quality faculty (which has grown from 160 full-time members four years ago to 222 today) and offer scholarships to qualified students.
The future of Rector Hall remains in limbo, as the insurance company still has control of the dormitory that was heavily damaged in an April 7 fire, Green reported. Once the residence hall is returned to DePauw,
[DOWNLOAD AUDIO: "Rector's Future" 307KB] "the second step is to take a close inspection, an inventory of what has happened in the building, and then the third step is to begin planning what we do next. But it's premature to know exactly what that will entail or when exactly that will come or what might come out of that planning process," Green stated.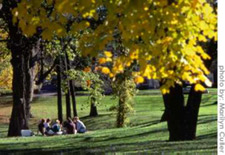 Following an admission year that saw the largest number of applications to DePauw in history and the lowest percentage of admitted applicants, which yielded 700 new students, 70 more than the University had targeted, Green noted,
[DOWNLOAD VIDEO: "A Hot School" 469KB] "We thought we were going to be performing at one level and, in fact, I think the word's out there that DePauw is a great school to go to and it's a hot school to attend. I think, because of that intangible factor, we outperformed our expectations."
Back