Peeler Art Center Dedicated as Donor Remembers the Building's Namesake, Her Former Professor
October 11, 2002
October 11, 2002, Greencastle, Ind. -

[DOWNLOAD VIDEO: "The Dedication" 418KB] "I want to dedicate this living memorial to the valor, the humanity, the integrity and the decency of this artist," Christine Plank Rales said this evening as she dedicated the Richard E. Peeler Art Center at DePauw University. Ms. Rales, a 1974 DePauw graduate and a former student of Professor Peeler, and Steven M. Rales '73, are the major donors who made the art building possible. Their names were made public at this evening's dedication ceremony. (DePauw President Robert G. Bottoms, Richard Peeler's widow Marj and Christine Plank Rales are seen in photo)

[DOWNLOAD VIDEO: "Recognizing Others" 229KB] "If we are fortunate, we can look back at our lives and name those who made a difference," Ms. Rales said,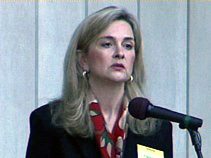 calling it "her blessing and good fortune to work with Mr. Peeler" while she was a student at DePauw.

[DOWNLOAD AUDIO: "Inspiring Others" 387KB] "It is my hope and prayer that through these efforts, others may come to learn to create and to appreciate art-- even more, that they may gain some measure of understanding of the values represented by Mr. Peeler's art, teachings, and indeed, his life. That is all anyone could ever wish for."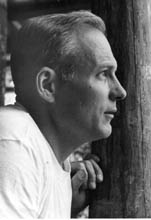 A 1949 graduate of DePauw, Peeler returned to his alma mater in 1958 to teach ceramics, sculpture and photography. He retired in 1972, and with his wife and partner, Marj, worked as a full-time potter in Putnam County until his death in 1998.

[DOWNLOAD VIDEO: "Thank You" 339KB] "My dear Christine," Marj Peeler said, "I thank you and Steve, along with Carlos [Jiménez , the architect], for building this remarkable art center." She added,

[DOWNLOAD VIDEO: "A Wonderful Surprise" 823KB] "to have this art center named after Richard Peeler was such an unexpected honor,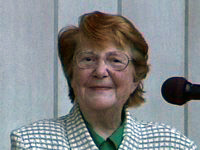 I didn't quite know how to handle the surprise when Dr. Bottoms and Gwen [the President's wife] told me. Christine, I wish Richard could be with you today to see you, to talk with you and personally express his gratitude."
DePauw President Robert G. Bottoms says the naming of the building after Peeler, who is also remembered for filming DePauw football games for 39 years,

[DOWNLOAD VIDEO: "Faculty Influence" 332KB] "is a reminder that not only in Dick's career, but in the careers of so many of our faculty, DePauw faculty do influence their students." Dr. Bottoms says the Rales' involvement in the art center began after the conclusion of the $374 million Campaign for DePauw.

[DOWNLOAD AUDIO: "The Rales'" 669KB] "I received a telephone call that I will remember for a very long time.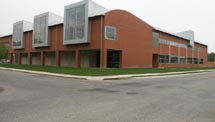 [Steve Rales] congratulated me on our success... and then said, 'How will you build the art building?' And I said, 'I can tell you exactly how much money we've raised so far.' And he said, 'How much?', and I said, 'None'. And he said, 'Well, maybe we can help with that,' and that began a series of conversations with Steve and Christine and Carlos."
The internationally-acclaimed architect, Carlos Jiménez , professor at Rice University's School of Architecture, noted,

[DOWNLOAD VIDEO: "The Architect" 524KB] "This is probably one of the great moments in anyone's career when suddenly a certain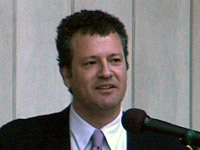 degree of responsibility is taken away. And yet, [there's] the enormous responsibility of knowing that the building begins its true architecture, which is it's life to come."
Mitchell B. Merback, associate professor of Art History and chair of the Art Department, recalled,

[DOWNLOAD AUDIO: "A Model of its Kind" 680KB] "Six years ago, we were given the opportunity few academic departments will enjoy: to help the institution identify an architect of distinction and renown, a visionary spirit who understood the special importance architecture -- the supreme, three-dimensional art-- could play in the aesthetic education of our students. At that time, we saw ourselves, the department, as missionaries of modern architecture. And this on a campus that had long seen its values reflected in the idioms of the past. Today, if I may boast just a little bit more, we see that missionary stance vindicated in brick, steel, glass and limestone -- a building that other institutions will look to as a model of its kind."
The Peeler Art Center features large windows that welcome in light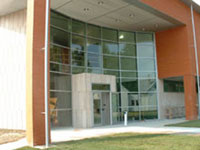 and functional, state-of-the-art space optimal for the teaching, creation and presentation of art. Included among the Peeler Art Center's 80,000 square feet are a large exhibition space; a 90-seat auditorium with state-of-the-art acoustics, designed for public events, films and recitals; classroom and studio space for pottery, sculpture, painting and photography; and offices for the art department faculty. Opened in August, the building is the first in DePauw's 165-year history to be dedicated to the teaching, creation and display of art.
Back