Academic Quad Dedicated to Philip and Ruth Holton, Whose Generosity Provides "Gift of Knowledge" to Nearly 200 Students
October 12, 2002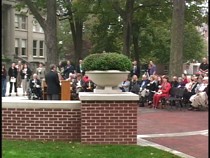 October 12, 2002, Greencastle, Ind. -
[DOWNLOAD AUDIO: "He'd Be Pleased" 538KB]"I trust as we stand here this morning, if somehow Phil were able to know about this, he would be very proud," DePauw University President Robert G. Bottoms said as he dedicated the Holton Memorial Quadrangle, honoring Philip Forbes Holton '29 and Ruth Clark Holton '29, who left the University a gift exceeding $128 million for scholarship endowment. More than 180 current students are Holton Scholars, and many were on hand for the ceremony.
Dr. Bottoms noted that Philip Holton "was a Rector Scholar, and everyone associated with DePauw knows about the Rector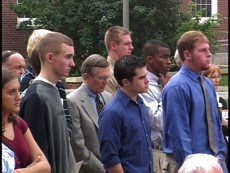 program and how so many young people were able to come to college who might not have been able to come if it weren't for Mr. Rector's gift. So, now we have the Holton gift, which is far larger, and is responsible for a lot of the young people standing around this morning being at DePauw."
Philip Holton spent his life with Inland Container Company, becoming president and chief executive officer in 1963, and seven years later, was named vice chairman of the board of directors. He retired in 1975. Ruth Clark Holton was involved in civic
activities, but devoted most of her time to family. In their later years, the Holtons wanted to demonstrate their respect for DePauw and provide a means for other young women and men to receive the benefits of a liberal arts education. Mr. Holton died in 1995, Mrs. Holton passed away two years later.
[DOWNLOAD VIDEO: "Creating Opportunities" 1100KB] "Phil Holton realized the education he was able to obtain as a result of his Rector Scholarship was a major factor in his having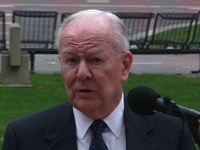 a successful career and a successful life," U.L. Uebelhoer, executor of the Holton Estate, told the gathering. "This, together with his emphasis and fixation on preparation, in my mind were largely responsible for his designating DePauw as the primary beneficiary of his estate. To him, a good education was the major part of preparation for life."
The Ruth Clark and Philip Forbes Holton Memorial Scholarships are awarded solely on the basis of academic achievement, leadership ability and a commitment to serving others. Established in 1998, the Holton Memorial Scholarship Program provides about 50 annual awards which range in amounts from $1,000 to full tuition annually and recognizes students who have a record of strong academic achievement and have demonstrated leadership and/or service to their school, community or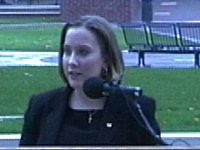 family.
[DOWNLOAD VIDEO: "Gift of Knowledge" 941KB] "Words cannot express how grateful I am for the difference you have made in my life, and in the lives of the students that you see here today," Holton Scholar Elizabeth J. Morgan '03 said of the Holtons. "One of the most valuable gifts anyone can receive is the gift of knowledge.
Through the Holton gift, many students, including me, have been provided with the ability to gain knowledge by attending one of the best liberal arts universities in the nation." (BONUS CLIP:
[DOWNLOAD AUDIO: "Morgan on Scholarship's Impact" 585KB])
Looking toward the Holton Scholars in attendance, Uebelhoer said that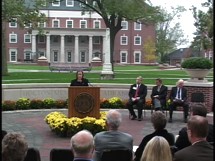 Mr. Holton would tell them
[DOWNLOAD AUDIO: "The Holtons' Message" 1002KB]"that with preparation there's no limit to what you students can accomplish... Seeing what you scholars will accomplish in your lives as a result of your scholarships you receive here would be his greatest gratification. I'm sure he would tell you: 'Turn up your dream machine, expand your horizons, take advantage of your opportunities and you will achieve far beyond your wildest imagination today. Mr. and Mrs. Holton were very gracious, intelligent, enthusiastic, generous and successful people. May you Holton Scholars benefit from their generosity and develop similar characteristics, but in your own, individual way."
Back