DePauw Defeats Sewanee in Old Gold Weekend Battle
October 12, 2002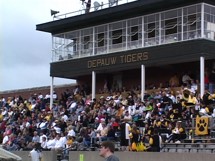 October 12, 2002, Greencastle, Ind. - DePauw University's football Tigers gave the students and alumni who gathered for an Old Gold Day battle with Sewanee (University of the South) a lot to cheer about. DePauw defeated the visitors from Tennessee 47-28 at Blackstock Stadium this afternoon in a Southern Collegiate Athletic Conference game. The win improves the Tigers' record to 4-2 on the season, 2-1 in conference play. Sewanee falls to 3-3 overall; 2-1 in the SCAC.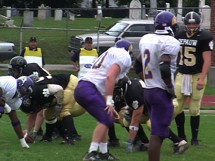 It took DePauw only a minute and 36 seconds to get on the scoreboard, as Matt King ran 27 yards for a touchdown. Twenty-six seconds later, after a Sewanee fumble,
[DOWNLOAD VIDEO: "Yoder to Ryan TD" 525KB] DePauw's Andy Yoder threw a 6-yard touchdown pass to Dan Ryan, but the extra point attempt was unsuccessful.
With 5:07 left in the the first quarter,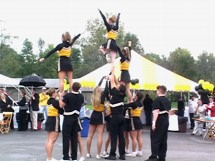 [DOWNLOAD VIDEO: "Rust 1 Yd TD" 379KB] Jackson Rust powered in for a 1-yard touchdown run, and the Tigers were up 20-0. After Sewanee scored to make it 20-6, Rust again battled in on a 2 yard touchdown run
[DOWNLOAD VIDEO: "Rush 2 Yd TD" 303KB], adding to DePauw's lead.
You can read a full account of the game, including statistics, by clicking here. The game was preceded by a tailgate party, sponsored by the Alumni Board,
at the VFW, about a block and a half from Blackstock Stadium. Visitors caught up with classmates and DePauw administrators, including President Robert G. Bottoms (seen in photo at right), and the cheerleading squad (see photo above left), and enjoyed food, drink and music by Push Down & Turn (a popular band made up of DePauw alumni). DePauw now has 59 wins, 34 losses and 3 ties in games played on Old Gold Day, first celebrated in 1907. The Tigers are 20-3-0 in Old Gold games since 1980.
Back