Newspaper Writes of DePauw Athletic Hall of Fame Inductee Larry Skelton '60
October 14, 2002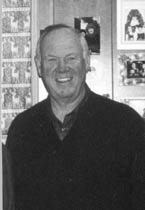 October 14, 2002, Greencastle, Ind. - "As he mulled a college choice while nearing Princeton High School graduation in 1956, Larry Skelton received a personal visit from Marion Crawley and a letter from Lee Hamilton," Pete Swanson writes in the Princeton Daily Clarion in an article on the induction of Skelton, a 1960 DePauw graduate, into the University's Athletic Hall of Fame this past weekend. "Marion Crawley was the dean of Indiana high school basketball coaches, having won four state championships, and we know about Lee Hamilton's career in the United States House of Representatives. They were both DePauw graduates," Skelton, who lives in Naperville, Illinois, tells the newspaper. "So Skelton chose to attend the Greencastle college on an honorary scholarship, instead of accepting athletic overtures from Evansville, Indiana State and Indiana Central," Swanson adds.
In the story, entitled "Larry Skelton joins DePauw immortals," Skelton, who played basketball and baseball, recalls severely spraining his ankle during his freshman year.
"Rehabilitation then wasn't what it is now. Fortunately, Charlie Erdmann, our swimming coach, took a liking to me. He made me his team manager. I paddled around the pool to exercise and build up my ankle." The basketball team brought in a new coach for Skelton's junior year. "Elmer McCall, who had coached South Bend Central to a state championship... He was a friend of Johnny Wooden. Johnny Wooden, Marion Crawley and Elmer McCall were the biggest names in Indiana basketball. Elmer was a great coach and a great person. He said he was counting on me. It was very enjoyable to play basketball for a friend."
After graduation, Skelton was courted by the Chicago Cubs, but he opted for a career in business. "We didn't think playing minor league baseball was the best idea. And Jim Loveless, DePauw's athletic director, had arranged an interview for me with Western Electric. Jim called late one afternoon and asked why I hadn't signed up for an interview. I told him I'd had a bunch of things to do.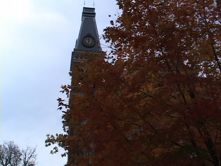 He suggested I take a quick shower and come over to meet one of his friends, Mike Northrup of Western Electric. When I asked Jim if I should wear a suit, he said, 'You should, but we'll let that go this time.' I hustled over there and talked with Mike Northrup, who invited me to breakfast the next morning. Later, I learned that Mike had asked Jim, 'Do you have any seniors who have been leaders in athletics?' Jim gave him my name. DePauw is good about looking after its people that way."
The newspaper also points out "Skelton's fellow inductees, in DePauw's 17th Hall of Fame class, include Richard Tinkham, track and field and basketball, Class of 1954; Pat Ewing, football, Class of 1958; Dale Anderson, track and field and basketball, Class of 1962; Jim Callane, basketball, Class of 1964; and Brian Jaworski, soccer, 1989." You can access the entire article online by clicking here.
Back