Best-Selling Author John Jakes '53 Receives Tribute Award
October 25, 2002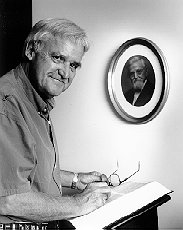 October 25, 2002, Greencastle, Ind. - "The award ... means a great deal to me because it was never expected," best-selling author and 1953 DePauw University graduate John Jakes said as the Arts Center of Coastal Carolina honored him with its Reflection Society Tribute award. "It's unlike any of the others I've received because it comes from an organization, a place, on whose behalf I've labored -- along with many others -- for 15 years and more. Sometimes many of us never thought we'd get an arts center built, but we did." A story in the Island Packet of Beaufort County, South Carolina reports that "Center officials gave Jakes the award in appreciation for Jakes' contributions to the arts center as a patron, benefactor, board member and artist."
With more than 50 million books in print, Jakes has authored sixteen consecutive
bestselling novels, including On Secret Service, American Dreams, Homeland, the North and South trilogy, and the recently-released Charleston. John Jakes has been called "the godfather of the historical novel," and the New York Times Book Review noted, "He is quite simply, a master of the ancient art of storytelling."
Jakes was honored Sunday, October 20, as the third recipient of the Reflection Society Tribute, and Hilton Head Island Hilton Head Island declared it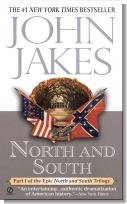 "John Jakes Tribute Day." The newspaper writes, "Jakes, 70, has been a part of the local arts scene since he moved to Hilton Head with his wife, Rachel, in 1978. He performed in several Hilton Head Playhouse productions and adapted two Charles Dickens novels for the stage, A Christmas Carol and Great Expectations. He also served on the Cultural Council of Hilton Head when the organization was trying to raise support and money to build the arts center, which opened in 1996."
Deke DeLoach, chairman emeritus for the center, tells the paper that John Jakes "has been a great asset to the community." The Island Packet's Forrest Valdiviez adds that "when the idea for the arts center first came about, there were naysayers who said the center wouldn't happen and that taxpayers would suffer. Jakes wasn't one of them. When Jakes was contacted
and asked if he would help, DeLoach said Jakes didn't hesitate. 'He just said, 'Use my name and any reputation I might have.'"
Jakes, a three-time Pulitzer Prize nominee, told the gathering, "For a writer who has practiced his craft professionally for more than 50 years, there is little more I could ask of it, or of my life, beyond what I've already gotten. I've had fantastic good luck, worldwide recognition and the time and means to give something back to my home community, Hilton Head."
The newspaper article can be accessed by clicking here. You can read more about John Jakes, who delivered the 1995 commencement address at DePauw, in this previous story.
Back