Christian Science Monitor Spotlights DePauw Internships, "Ticket To A Career"
October 28, 2002

October 28, 2002, Greencastle, Ind. - "The fall term at DePauw University began weeks ago, but junior Andy Bagley is 800 miles away from its Greencastle, Indiana, campus, working at the American IronHorse Motorcycle Co. factory in Fort Worth, Texas," begins an article in today's Christian Science Monitor. "A bad case of hooky? Actually, Mr. Bagley is working as a marketing intern at American IronHorse with the full support of DePauw, which practically demands that all of its 2,200 students go into the workforce during their college years to sample work life and prepare for the real world." Writer Steve Dinnen adds, "Experiential education – the term applied to internships, cooperative work, and fellowships – now appears to be the ticket to a career."
The lengthy story, which appears in the Monitor's Workplace section, is accompanied by a full color photo of Andy Bagley. It states that "The National Association of Colleges and Employers' survey of job recruiters shows that their top selection method is now internships, beating out on-campus recruiting trips.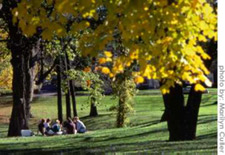 And interns now make up 32 percent of new hires – double the rate of just five years ago."
What's more, Dinnen makes the case that DePauw internships involve invaluable, hands-on experiences. "Bagley, for instance, helped draft American IronHorse sales brochures, writing a revamped dealer application form. He also attended meetings with high-level executives, giving him a real dose of the work world. 'I sit in the same office as the vice president of marketing, who's in contact with the CEO,' says Bagley of an experience that he believes will give him an edge over fellow graduates when they enter the workplace."
Liz Hughes, an executive at job recruiter Robert Half International, tells the national newspaper that internships provide important real-life experience that can greatly enhance a résumé. "The more concrete work experience a college graduate has, the better," she says.
The story points out that "DePauw has sent interns to work at the Kennedy Center for the Performing Arts, at MSNBC, and on Wall Street. One student who worked with a communications company even helped plan the 2002 Super Bowl half-time program." And it closes by noting, "The people often footing the bill for these out-of-school tryouts -- parents-- also seem accepting of them. According to Robert Bottoms, president of DePauw, test-driving a job underscores the ability of a liberal arts education to blossom into something practical. 'Parents are eager to see that a major in history might actually lead to a job,' he says."
You can access the article in its entirety at the Christian Science Monitor's Web site by clicking here.
Back