Music Professor Verna Abe Receives Distinguished Service Award
October 28, 2002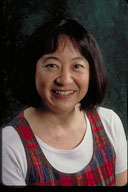 October 28, 2002, Greencastle, Ind. - Verna S. Abe, adjunct assistant professor of piano in the DePauw University School of Music, received the Distinguished Service Award from the Indiana Music Teachers Association at the IMTA's State Convention, held at DePauw this past weekend. The award recognizes long-time service and significant contributions to the Association and to music teaching throughout the state. Abe, who served as IMTA President from 1993-1996, is currently a member of the organization's board of trustees.
Abe joined the DePauw University faculty in 1998. She previously served on the faculty of the University of California Extension – Santa Barbara, Butler University and Purdue University. Verna Abe also serves as artistic director of the

Tippecanoe Chamber Music Society and has been an artist with the Indiana Arts Commission Presenter Touring Program.
You can read more about her by clicking here.
Back