DePauw Students and Alumni Rally in Nation's Capital in Support of Jailed Former Professor
October 29, 2002
October 29, 2002, Washington, D.C. - More than 70 protesters, many of them alumni and students of DePauw University, braved cold gray weather last Friday, October 25, outside of the Egyptian Cultural Center in Washington, D.C. to demonstrate in support of Saad Eddin Ibrahim. The sociologist and human rights activist, who taught at DePauw from 1967 to 1974 and is married to Barbara Lethem Ibrahim '71, is imprisoned in Egypt after being convicted of embezzlement, receiving foreign funds without authorization and tarnishing Egypt's image. Human rights groups worldwide have called the charges and the resulting trial a "sham."
The demonstration demanding Dr. Ibrahim and his co-defendants' immediate release from prison was organized by a group of DePauw alumni, who studied under the professor 30 years ago. Protestors traveled to Washington from Wisconsin, Chicago, Indiana, Ohio, South Carolina, and Rhode Island; a contingent of DePauw students came from the University's Russell J. Compton Center for Peace and Justice. Amnesty International, which is working diligently to free Ibrahim, co-sponsored the demonstration. Amnesty International activists at several local high schools and universities also participated, as did a number of Egyptian expatriates.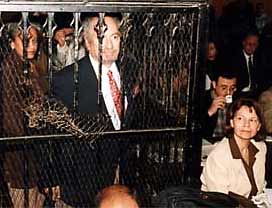 A message from Saad Eddin Ibrahim, written in his cell in Cairo, was read to the demonstrators who gathered. "Nothing uplifts the spirit of a prisoner of conscience more than being recognized by like-minded human rights defenders," Dr. Ibrahim wrote. "I have been humbled by the outpouring of expressions of solidarity from all over the world... My imprisonment has highlighted all the important causes for which I have been struggling for the previous 30 years -- freedom to dissent, the application of justice without regard for politics, and dignity for all people... The deep belief that I am paying the price for profoundly held principles has given me tremendous inner peace. I am convinced that history is on my side."
Egypt's highest appeals court will review Dr. Ibrahim's case in December. You can read more in a story on CNN.com by clicking here. The article also notes that "Barbara Ibrahim, Ibrahim's wife, is heading... to the United States to receive two awards on behalf of her husband, from Freedom House and from Lawyers Committee for Human Rights."
Other recent stories about the case are accessible by clicking here and here.
Back